Charlotte Crosby has been praised by fans after being brutally honest about her lack of sex drive after childbirth. The Sunderland born star, 32, explained to listeners of her podcast, 'Always On' that she hasn't had much desire for sex since childbirth because her hormones are "all over the place".
"You do feel like you want sexy time but just not as much as you used to," she said. Sparking a discussion, Charlotte asked her listeners: "does it ever come back?".
Charlotte continued: "At the very beginning, there was a natural shift as obviously we had a new little thing coming into our life".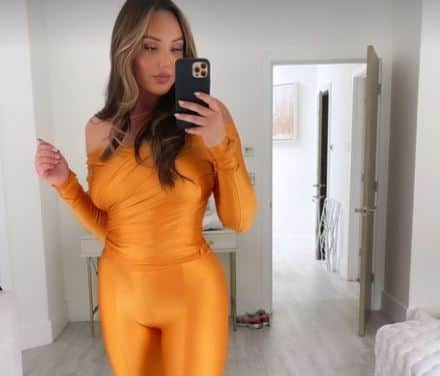 The Geordie Shore star pointed out that she and partner Jake Ankers didn't have to just love each other any more as there was someone else to care about. Jake has also been very vocal about changes in the bedroom. The British businessman and celebrity driver revealed that he thought Charlotte didn't fancy him anymore because he's"a bit fat at the moment". Charlotte reassured her loving partner that her lack of sex drive is due to postpartum."I still think you are the sexiest person on this earth," Charlotte said.
Listeners have praised the couple on Instagram, while also sharing their own experiences.One said: "loving the honesty around parenting (and everything that comes with it) from these two! 👶 safe to say we are hanging off every word from @charlottegshore in her Mum era!".
Another added: "To find a man who understands and wants to support you through a lack of sex drive is rare, I've experienced being made to feel guilty and pressured, naturally we don't feel our best after birth so our confidence lacks as well as feeling constantly tired, it's actually nice to see a man openly want to support his partner 🙌❤️"
A third added: "Totally natural and normal. Jake putting on weight is also normal. That's called sympathy weight/pregnancy. My husband put on weight during my pregnancy as well".
The happy couple may soon be a family of four soon if Charlotte gets her way. She is keen to start "trying" in December but Jake wants to wait a few more years so that they have time to enjoy Alba. Alba joined the couple during their podcast and could be heard giggling in the background.
Charlotte admitted she was lonely as a child as she had to wait until the age of 15 before having a sibling. She is very keen for Alba to have a little brother or sister within the next few years. Whilst Charlotte is keen for a little sister for Alba, Jake wants some male support and would prefer a son.
The trio are currently filming the new series of Geordie Shore in Cyprus, shutting down speculation that the show's days are numbered after 12 years on screen. Charlotte has been sharing snaps on Instagram of herself looking fabulous in a blue and white bikini and also a selection of glamorous dresses. This season appears different from the normal format as all the Geordie Shore crew are bringing their families too.
The Geordie Shore stars who headed off into the sun include newlywed Marnie Simpson and her husband Casey Johnson, Marnie's cousin Sophie Kasaei, Charlotte Crosby, Ricci Guarnaccio, Kyle Christie and originals Jay Gardner and James Tindale.