'Results are showing': Charlotte Crosby delighted with her incredible post-pregnancy figure after working out
The former Geordie Shore star has spoken candidly about her fitness goals in the past.
Charlotte Crosby has revealed her incredible figure just seven months after giving birth to her daughter. The former Geordie Shore star, 32, and boyfriend Jake Ankers welcomed their first child in October last year.
Charlotte took to her Instagram story on Friday to update fans on her post-pregnancy body and showed off a slim figure in a video. The mum-of-one has been pairing workout routines from her Blitz N' Burn fitness app with combat training and says the "results are showing".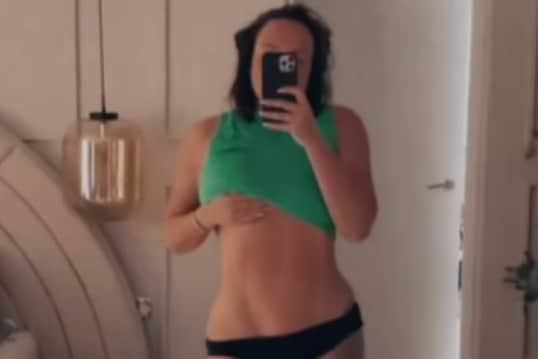 Charlotte said: "When your period comes, your bloating goes down, and you slightly buzz about the fact that, finally, after staying consistent with exercise( with the odd week off here and there), results are showing.I've been following one of the very first programmes we launched on my app @blitzburn and mixing it up with the combat workouts in between."
She also highlighted that she has been blessed with wider hips after pregnancy saying: "I'm totally here for the widened hips carrying my baby gave me. Thanks, Albs."In another video, the TV star gave a glimpse of her scar after undergoing a C-section when giving birth. She captioned it: "My little C-section scar. My fave scar to date."
The reality star has been very open on social media about her own birth experience and has also spoken candidly about her fitness goals.She recently teamed up with a pre and post-natal coach to launch a new section on her fitness app to help women regain their body confidence after giving birth.
Charlotte also gave fans an insight into how she juggles going to the gym while being a mum. "Sometimes it's nice when we don't have Alba to just get out and get into the gym, so we're not just sat in the house all day. And then it's so easy when I do have Alba to do all the workouts," she said.
Charlotte added: "I sync my phone to the TV and do a workout at home with Alba just watching us in her bouncer or Alba napping and me doing a workout quickly."