There was a strange sound along Grey Street in Newcastle on Tuesday evening. Geordie voices hummed along to sea shanties as they made their way back down the Metro and to car parks - you'd be forgiven for thinking that you'd travelled back in time and maritime workers had just finished a shift on the Quayside. In reality, it's just the result of Fisherman's Friends arriving on Tyneside.
The touring musical opened at the Theatre Royal on Tuesday night and tells the now well-known story of a happy-go-lucky bunch of fishermen whose voices make it to the big time. It's a real-life tale that has already been made into two recent major films but comes to life on stage.
Where many musicals lean on big production and hit numbers, Fisherman's Friends excels in its simple ditties. The show's best moments are no more complicated than the leading cast forming the trademark semi-circle at the front of the stage and sending echoes of the catchy sea tunes around the theatre to woo the Geordie crowd. The group is led by Coronation Street star James Gaddas as the hard-to-please Jim and Robert Duncan performs as the smiley Jago, although every member is brilliant in creating the wall of sound that comes from the group.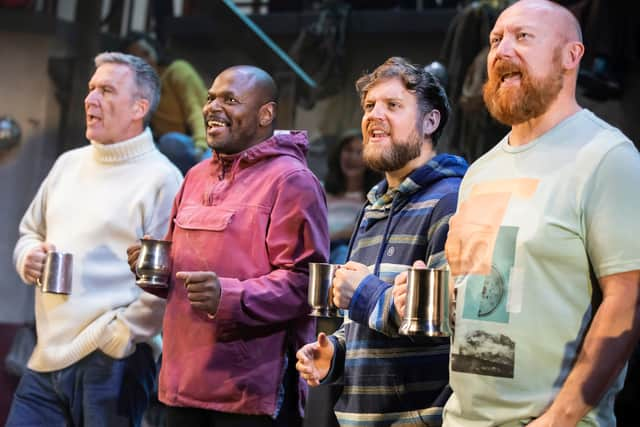 Whilst those simple moments are when the musical is at its best, there's plenty more for spectators to get stuck into. Jason Langley and Parisa Shahmir are confident in the roles of star-crossed lovers Danny and Alywyn whilst the experienced Susan Penhaligon is the emotional linchpin as Maggie, who spends the musical convincing the village folk they can amount to something bigger.
Comedic moments are aplenty too. Cheeky Londoner Danny's arrival in far-removed Cornwall draws laughs from a North East crowd all too happy to giggle at a lost Southerner's expense. At another moment the Fisherman's Friends end up in a London gay bar for a cooky, feel-good number and there's time for a witty nod to the viral 'Wellerman' shanty that hit the charts last year too.
Above all, Fisherman's Friends is an easy watch. A light and breezy tale of the underdog that is truly endearing.
Fisherman's Friends plays at the Theatre Royal until Saturday, October 15. You can buy tickets here.