Max & Harvey proved their status as rising pop stars when stopping by in Newcastle on the This Is Not A Phase Tour.
Between their television presenting, podcast hosting and reality TV appearances, it's easy to forget that Max and Harvey Mills are musicians first and foremost.
Over the past two years, with live shows pulled due to the pandemic, the twins have focused time and energy on what they could do away from the stage - from a 24-hour TikTok livestream to hosting The Max & Harvey Podcast.
In the background, however, the teenagers were picking up instruments and penning new material ready to fire on all cylinders once restrictions were lifted.
On Friday night at Newcastle's ThinkTank, that work came to fruition as Max & Harvey delivered a rip-roaring set of hits.
Two years on since their last visit to the North East, the duo's live show has now been bolstered with a live band and chunkier setlist.
Following in the footsteps of a young Sam Fender, The 1975 and Wolf Alice, the brothers buzzed around the ThinkTank stage for an hour of high-energy pop.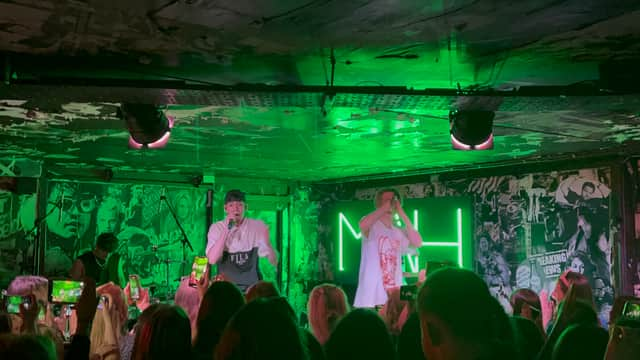 The change in two years is remarkable. When Max & Harvey played the Northumbria University Students Union in 2019, it was The X Factor Celebrity covers 'Can't Hold Us' and 'High Hopes' that were the best moments.
On Friday night the boys only afford time to the Macklemore & Ryan Lewis cover, whose rattling chorus goes down a treat, but passes in a heartbeat.
In 2022, the group's fans are here more than ever for the twins' own material.
The catchy 'Worry A Little Less' is slick, 'Girlfriend' showcases the twins at their cheeky best and 'One More Day in Love' is treated to a killer remix.
The best moment of the night comes as Max & Harvey lean fully into their songwriting on 'In My DNA', a ballad dedicated to a grandparent struggling with Alzheimers.
Moments like that show that despite their many other talents, Max & Harvey are at their very best with a microphone in hand. These are two pop stars