It's the last day of February in Newcastle and the seemingly ever-present storm swirls around the O2 City Hall, strong winds battering the building.
The storm on Northumberland Road isn't the only one brewing either, inside the iconic Tyneside venue Wolf Alice are whipping up a tempest of indie rock hits.
The Brit Award winners are unbelievably meek throughout their hour and fifteen-minute set, lead singer Ellie Rowsell only pauses to chat to the crowd briefly at the end of the night.
That passive attitude has fast become a trademark for Wolf Alice, indeed some of the very first words Rowsell utters to open the night in the riotous 'Smile' are, "I ain't ashamed in the fact that I'm sensitive, I believe that is the perfect adjective".
Wolf Alice have always been a band who have let their music do their talking.
Critically-acclaimed albums My Love Is Cool, Visions Of A Life and Blue Weekend have hoisted the band to a Brit Award, a Mercury Prize and even a Grammy nomination.
Monday's night stop in Newcastle, a date delayed from January after the Omicron panic, sees the band journey through all three of those records.
Older tracks 'Bros' and 'Silk', both from the debut album, are clear fan-favourites when dropped in the middle of the set - Rowsell's face rarely gives much away, but she cracks a smirk as raucous Geordie voices rally back.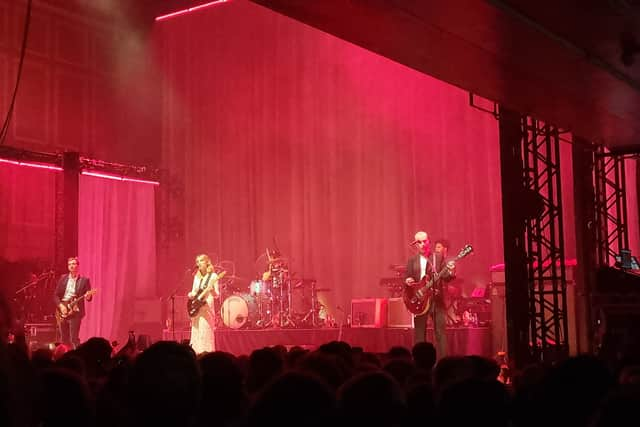 The lead singer is of course flanked by Joff Oddie and Theo Ellis, who tower of the O2 City Hall crowd, with drummer Joel Amey behind.
This year's tour is very much in celebration of last year's third record Blue Weekend and tracks from that album find new life in the new set.
The band wrote 'Play The Greatest Hits' exactly for moments like this and Rowsell sheds her guitar to swan across the City Hall stage bellowing into the mic - it's a real moment and a remarkable transition having just wowed with the desperate and dreamy 'How Can I Make It OK?'.
Unsurprisingly, the night closes on 'Don't Delete The Kisses', an ethereal flick met with a chorus of voices.
The Wolf Alice hype is real, without even breaking a sweat the super cool rockers have stunned yet another crowd.