'She would want us to carry on': 11 memorable responses to news that 'poignant' Great North Run will go ahead
"I'm sure it will be a respectful tribute for all of us to acknowledge her lifetimes support to her charities, good decision."
Watch more of our videos on Shots!
and live on Freeview channel 276
Visit Shots! now
The Great North Run organisers have been praised for their decision not to cancel Sunday's event and to run the event in memory of Queen Elizabeth II.
Her Majesty passed away at her Balmoral residence on Thursday which has led to the cancellation of many sporting events this weekend as the United Kingdom enters 10 days of grieving.
It was confirmed at Friday lunchtime that the iconic Tyneside half marathon would go ahead on September 11, although extra measures would be put in place to mark the Queen's passing.
These include a more 'subdued' entertainement schedule and an "appropriate tribute".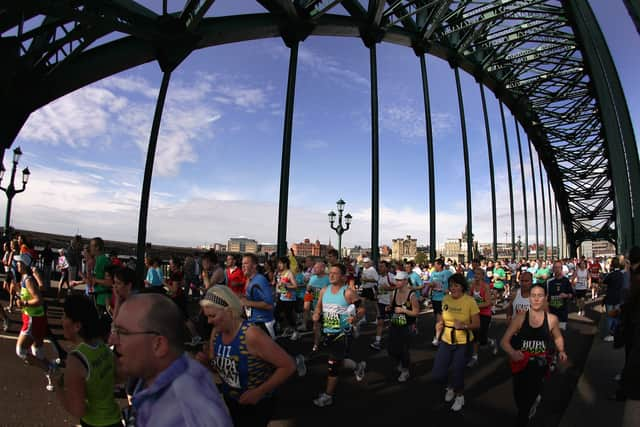 The vast majority of people online welcomed the decision, reckoning that the "poignant" event would have been what the Queen wanted with over £25 million set to be raised for charity.
Here are 11 of the best messages shared by users on Twitter in response to the Great North Run announcement.
1) "Good news - it's the right decision. The Great North Run raises millions for charity, just as the Queen did during her lifetime."
2) "An excellent decision on what's going to be a fitting tribute to The Queen. Going to be a very emotional day."
3) "This is absolutely the correct decision. The Queen was a great sponsor of charity, sports and the efforts of regular people going above and beyond. This event being on is as much a fitting tribute to her legacy as would be respectful contemplation."
4) "Great decision that should be appreciated and applauded. Economically fantastic for the region and I am sure the participants and spectators will pay their respects and tributes in a fitting manner. Dear me...someone using common sense. Faith in humanity restored."
5) "#Greatnorthrun is going ahead as planned. Well done to the decision-makers - it's going to be a very emotional day but completely agree with this call. £25million+ due to be raised for charities and still opportunities for a fitting tribute to The Queen."
6) "This is the correct decision by 13.1 miles! There is absolutely no need to cancel the #greatnorthrun2022."
7) "I'm sure it will be a respectful tribute for all of us to acknowledge her lifetimes support to her charities, good decision. She would want us to carry on. #HMTheQueen"
8) "I'm travelling up this afternoon, I'm sure the atmosphere will be a lot more sombre than usual but I'm glad it's going ahead."
9) "I'm very pleased that the Great North Run will still go ahead. Although it is a unique time, the commitment many of the runners have put into fundraising for good causes is surely a fitting tribute. See you on the start line."
10) "Mum's still running Sunday! This will be an extraordinary event given the circumstances right now in the UK. So glad the race wasn't called off, mum will pay her respects and still run for charity x."
11) "The #GreatNorthRun feels more poignant than ever at this time, a special tribute to be carrying out the good work that has always been very much supported by the Royal House."