The organisation is offering full training, and certification for bars and venues across the city.
ShoutUp! Works directly with bars, pubs and clubs in order to shift attitudes surround sexual harassment.
The hope is to train staff in understanding sexual harassment, and to notice when it happens so they are able to intervene when necessary.
According to their website, in order to get certified by the organisation: 'Venues must complete training and implement policies and processes before they can be considered a Shout-Up! venue, and they must retake the training at least every two years to maintain their status.'
To date they have worked with 40% of the licensed premises in Newcastle, and have been able to secure support from high-ranking police officers, the police and crime commissioner and local MPs across the country.
As of 2021 they have officially certified eight venues in Newcastle. They are the following:
Blonde Barrel, certified Nov 2021
The Cumberland Arms, certified Nov 2021
The Cluny, certified Nov 2021
Habita, Reds & Domain, certified Nov 2021
The Old Coal Yard, certified Nov 2021
Rusty's, certified Nov 2021
Holy Hobo, certified Nov 2021
Spot White, certified Nov 2021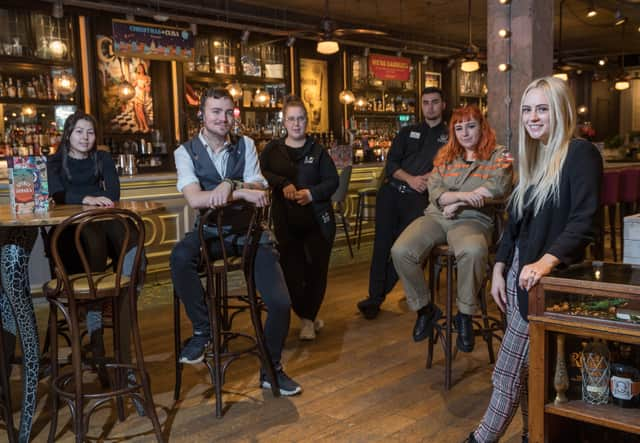 Since the organisation began ShoutUp! have been able to reach around 4.4 million people worldwide.
They have been featured in the likes of GQ and BBC News, as well as featuring on news sites in North America and beyond.
The organisation highlights statistics on their website that emphasise the importance of the work they are doing.
These being that 71% of women of any age say they have experienced sexual harassment in public spaces. As well as, 63% of women and 26% of men saying they have experienced sexual harassment on a night out.
They have also carefully laid out their ethos, and values on their website, which are as follows:
Everyone should feel safe on a night out
No-one should feel pressured or harassed into interaction, conversation, drinks or socialising
Active and enthusiastic consent makes a better night for everyone
Being harassed should not be the norm for a night out
People who work in bars, pubs and clubs have the right to work without being sexually harassed
Venues have a duty of care to staff and patrons
People spend less time and less money in places that are known for predatory environments or places that are known to ignore harassing behaviours
They are open for enquiries and available for training, having launched their 2021-2022 programme recently. The organisation has hope of reaching more bars and creating safe spaces free of sexual harassment.
The work they are doing will hopefully act as inspiration for other areas in the UK and around the world.