It's January 24 and waiting under the heat at Nelson's Dockyard in Antigua is a motley crew of former Newcastle University rowers.
Eyes on the horizon, they're looking out for three friends who are on course to obliterate the World Record of the fastest women's crew to row the Atlantic.
Charlotte, Abby and Kat, team We Are Extraoardinary, have travelled 3,000 nautical miles from Spanish island La Gomera to Antigua in 42 days, 7 hours and 17 minutes, breaking the record by 7 days 6 hours and 32 minutes.
The seed for the challenge was planted back when Charlotte and Abby attended Newcastle University and rowed with the University's Blue Star boat club.
Speaking to NewcastleWorld, Charlotte said: "Abby and I both went to Newcastle University. Abby from 2007-2011 and I was there from 2008-2012.
"We loved our time in Newcastle. Abby always says it was the best time in her life and it was definitely one of the best times in my life.
"We go back every year at least once and all of our friends, the ones who came to the finish line, are the ones from Newcastle Uni as well. We've made friends there for life."
Despite being keen rowers back then, it's fair to say neither would have imagined they'd accomplish the mammoth Talisker Whiskey Atlantic Challenge.
Charlotte caught the bug for physical challenges in 2016 after walking 2,600 miles along the Pacific Crest Trail in South America.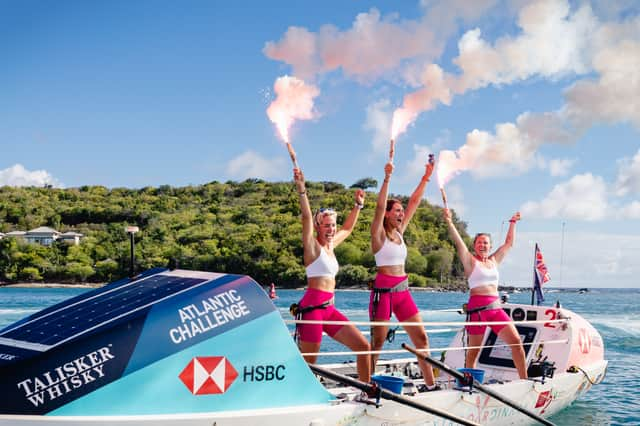 Teammate Abby "got a bit jealous" at that challenge and fancied her own.
The next year Abby sailed in the Clipper Round The World Race, where she met Kat.
The duo finished and were immediately cooking up their next challenge, eyeing up a row across the ocean.
Charlotte said: "Kat was diagnosed with cancer shortly after that and went through treatment.
"When she was in remission she thought, 'why not, you've got one life, let's do it'.
"Kat paid the deposit and signed us up then rang Abby and said, 'we have to do it now'."
From then, Charlotte was recruited, saying yes "straight away".
The next steps included planning the logistics which, looking back now, Charlotte admits seem harder than the race itself.
She said: "A huge part of the race is fundraising.
"It's an expensive race. We wanted to raise as much as we could for charity but we also needed to get corporate sponsors on board to help us get to the start line in the first place."
To make the mountain the trio had to climb even steeper, it was exactly at that moment in 2020 that Covid-19 hit.
Charlotte said: "We had loads of plans for fundraising balls and different events so had to be quite creative in how we fundraised.
"Just getting to the start line, I would argue, was more stressful than the race itself.
"One of the most amazing things about this row is the people we've met along the way.
"It just really restores your faith in the kindness of strangers.
"So many people went out their way to help us and bought into what we are trying to do."
The team set about their training which, as well as tough long sessions on the rowing machine during lockdown, included plenty of injury prevention workouts and 120 hours training on the sea - all whist juggling full-time jobs.
Once underway on the challenge, the team found a slick but gruelling way of operating.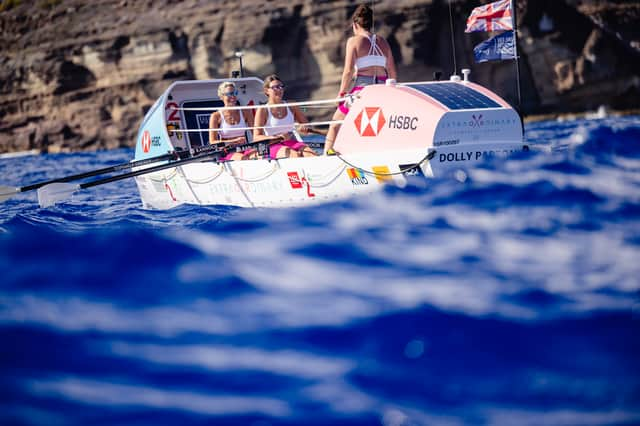 Charlotte explains that from 5 am to 11 am two of the trio would be rowing, each person on a two-hour shift as they swapped in and out.
Then, from 11 am to 5 am, they'd drop to one rower whilst the other two scored four hours sleep.
For Charlotte, those solo nighttime rows became some of her favourite moments.
She said: "We were quite nervous about them initially, rowing in the dark with really bad weather but, in a way, it was really peaceful.
"Most nights the moon was there and the stars would like nothing you'd ever seen before.
"You could see the milky way and loads of shooting stars.
"We felt really privileged to be doing it."
Other highlights included 50 minke whales swimming by their boat and a group of dolphins swinging by to pick up their moods too.
As with any challenge of its size, it wasn't all simple at sea.
Charlotte remembers having to battle the sun as a particular struggle.
She said: "We all had our own individual lows.
"For myself, it was the heat in the middle of the day because there's nowhere to go.
"There are cabins but they are so hot and there's no sun protection. It was in the mid-30s and with no wind it was horrendous."
Given the length of the challenge, the team were also on the oceans for Christmas Day and New Year.
"We stopped rowing for about 10 minutes to celebrate," Charlotte jokes.
The rowers enjoyed stowed away Christmas gifts, a Christmas Cake baked by one of the mothers and a mini bottle of champagne between them.
The team are raising money for Cancer Research, Macmillan Cancer Support and the Royal Marsden Cancer Charity.
You can support them by donating here.