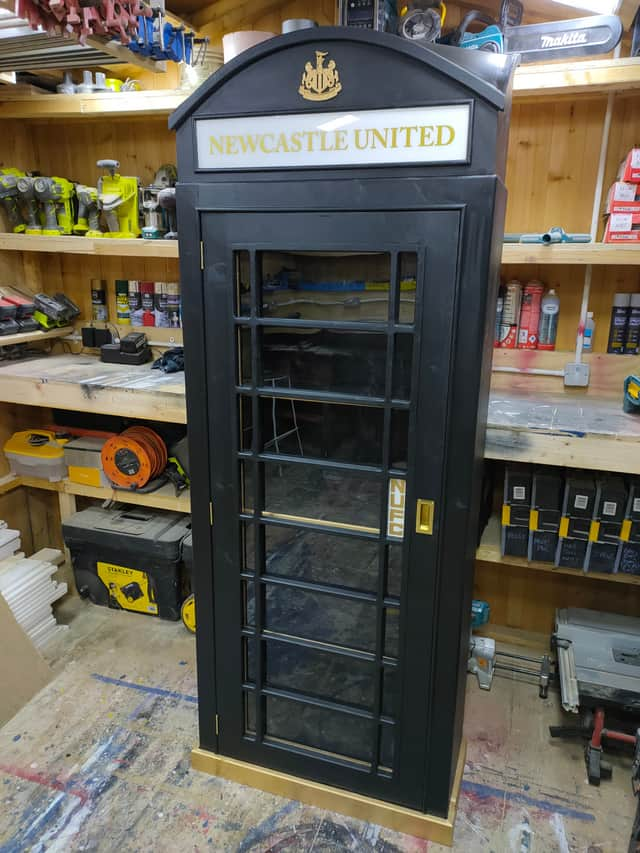 Newcastle United memorabilia lovers can rejoice as a fan launches a charity raffle to sell their one of a kind NUFC phone box.
The handcrafted box comes lined with shelves and similar products have been used as larder storage, a bookshelf or even a trophy cabinet.
Funds made in the raffle will, in part, go towards a cause close to Magpies' fans' hearts in the NUFC Food Bank.
Other funds will go towards Juvenile Diabetes Research (JDRF), who search for a cure for Type 1 Diabetes.
The local Jones family are behind the raffle with sons Gavin and Kevin at the heart of the campaign, which is being overseen by mum Susan.
Susan said: "I've been raising money for various charities with my friend since 2010 as we do charity bike rides.
"I usually do a Christmas raffle for Juvenile Diabetes and Cancer Research and my son Kevin donated the NUFC phone box, a post box and an Only Fools and Horses bar as well to raffle off.
"The person who won the phone box wanted a cash alternative instead, so we thought we'd re-sell it."
Susan's son Gavin, a big fan of the football club, suggested funds should also go to the NUFC Food Bank.
Now, if £250 is raised for the phone box which usually sells at upwards of £500, half of the funds will go to the NUFC Food Bank and half to JDRF.
The phone box itself was handmade by Kevin, who started to experiment with the designs as a challenge.
Kevin said: "It was a couple of years ago I wanted to challenge myself.
"I'm a joiner by trade and I decided to make a Tardis.
"Then after that I wanted a new challenge and made a phone box.
"I wanted to make them usable too, which is why they have shelving.
"I've done different variations and one day when I saw the match was on I decided the badge would look good instead of the crown.
"I've got them all around the country, a lot of hairdressers use them for stuff!
"For minibars, storing drinks and memorabilia, there are a few different uses for it.
"I tried to time it with the takeover too with Mike Ashley going out. I was going to tag the new owners and say, there's your new trophy cabinet!"
Bids for the Newcastle United phone box can be submitted to Gavin Jones on Twitter here by New Year's Day.