Premier League clubs across the country have backed the annual campaign in recent weeks with Premier League branding changing colours and captains sporting a rainbow-coloured armband. The one worn by Kieran Trippier against Aston Villa on Saturday was signed and handed over to United with Pride Co-Chairs Debbie Louise Cannon and Claire Wintrip by the captain himself after the match.
To mark the Rainbow Laces campaign the group also recorded a video with Sky Sports which aired on Super Sunday on October 23. In the clip, four United with Pride members shared their opinions on why the group's existence is so important.
Michael-Chay Hayden, who is not gay himself but a member of the group as an ally told SkySports: "I've talked to pretty much everyone in the group and they've told me their stories. Ian told me one which stayed with me that he used to go to the games and feel like he was the only gay person in the crowd, that he'd have that fear of being found out almost. I go to games and wear a rainbow scarf as a way of saying you're not alone. Even though I'm not gay I will always be there to support anyone that is."
After the clip aired United With Pride spokesperson Ian Pearson-Brown said that the response had been overwhelmingly positive with a number of Magpies fans speaking out with support at matches.
Ian said: "Following that interview the members who took part have been recognised, people have been shaking our hands whilst waving the flags in the stadium. We've had added interest for our scarves which are for LGBT+ fans or allies to wear in stadiums with the black and white and rainbow motif. They've been popular again."
Ian added that even though Stonewall research shows that homophobia is leaving sport - the proportion of sports fans who think homophobic remarks in sport are acceptable has dropped from 25% to 14% in five years - Rainbow Laces is still a vital campaign.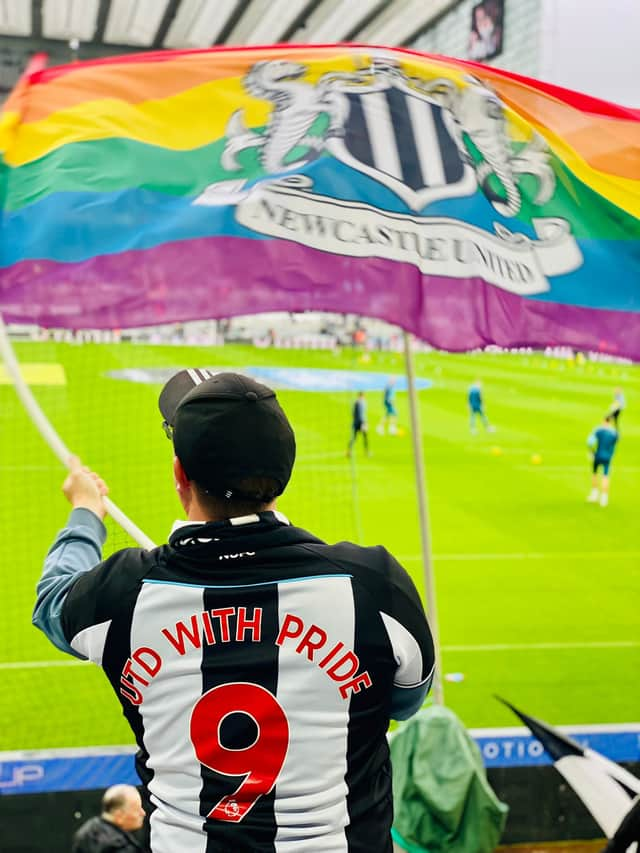 He said: "Currently in the UK if you're LGBTQ+ you're significantly less likely to take up sport. The community is also more likely to have physical health inequality and significantly more likely to have a long-term mental health problem. We know that getting access to sports is good for your physical health and mental health.
"The Rainbow Laces campaign across sports is really important to show it can be a safe space for LGBTQ+ people. We want LGBTQ+ people to access sports in the same way everyone else can. The Stonewall research shows that being a visible athlete or ally to the LGBTQ+ community can help change attitudes."