Newcastle United LGBTQ+ supporters group United with Pride stood out in their work over last weekend's Northern Pride and praised a "phenomenal" event.
The group teamed up with the Newcastle United Foundation, Wor Flags and Newcastle Panthers to put on an impressive display in the march through the city centre on Saturday.
Magpies supporters who are members of the LGBTQ+ community and those who are not came together as the large group joined the Pride parade.
The route started at the Civic Centre before making its way down to Monument and then back up to the Town Moor.
Black and white flags flew high and popular Newcastle United chants were sung loud as the group took pride of place towards the front of the march.
Afterwards, United with Pride set up shop on the Town Moor as festivities took place.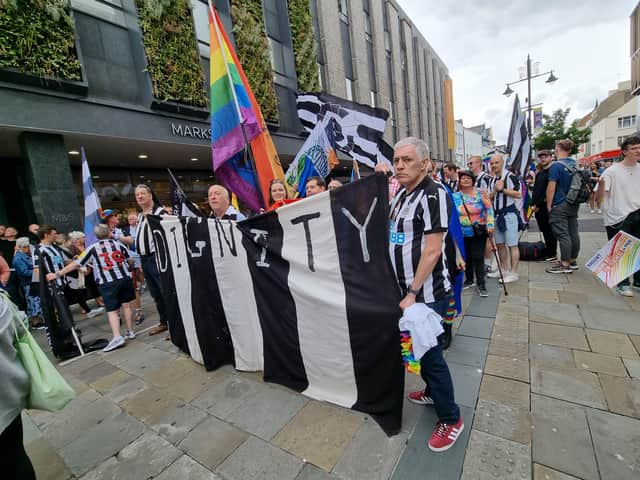 Social Media Officer Jay Langston told NewcastleWorld: "It was amazing. We did it in 2019 and it was fantastic, this year it was even better again.
"The atmosphere, the energy that was around, everyone was really engaged, it was phenomenal. Really amazing to be part of.
"It's amazing to have the links now, it's been a journey since we formed and long may it continue. We want to engage with even more people, you can see right now everyone is coming together united as one and United with Pride."
Operating in the Sports Zone and Northern Pride, the group operated football-related games and shared their message with those attending the event.
Before the weekend's celebrations, United with Pride's Ian Pearson-Brown explained how the event had been in the works for years.
He said: "The city of Newcastle has been trying to host UK Pride for the last three years and Covid has delayed this. We started planning for this event with staff back in 2019. It long predated the takeover.
"Regardless who owns the club, we were always going to be at Northern Pride and have representation from the club, the Foundation, ourselves at United with Pride, Northumberland FA and others. I would say it's business as usual."