Former Newcastle United loan striker Louis Saha believes his old club can accelerate their ambitious plans by focusing on their bid to secure a return to the Champions League.
The Magpies were sat in the top four ahead of Sunday's home game with Fulham and have firmly thrust themselves into the race for a Champions League place with an impressive performance so far this season.
Progress has also been made in the Carabao Cup with Tuesday night's 2-0 win against Leicester City setting up a two-legged semi-final with Premier League rivals Southampton before the end of the month. Despite having the prospect of ending the Magpies long wait for major silverware, Saha believes the current crop of United heroes should focus their efforts on seeing off the likes of Tottenham Hotspur and Liverpool to claim a top four place.
Speaking ahead of Sunday's meeting between his former clubs, the Frenchman told Sky Sports: "It's a buildup of confidence. Having said at the start of the season they had to be really smart in the transfer market, they have done it, they haven't done any silly things and Eddie Howe had built his team to get that confidence.
When asked if he'd rather qualify for the Champions League or win a trophy, he replied: "Now they are in that conversation for the top four, for the Champions League. I would rather the Champions League, straight away."
Former Liverpool and England midfielder Jamie Redknapp disagreed and supported his argument by referencing United's long wait for silverware.
He said: "You don't remember that year you finished top four but you remember winning a cup. The last time they won a domestic cup was 1955. Imagine how big a star Eddie would be if he did that."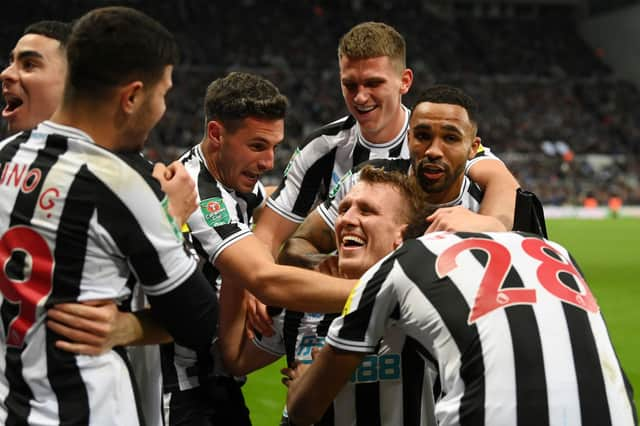 But Saha remained insistent that a top four place should be the main target for Howe and his players as the Magpies look to return to European football's premier cup competition for the first time since 2003.
He said: "But the club is willing to go further, faster and in certain ways they have done is with very smart indication in the transfer market. Now, the proposition of having the Champions League, attracting a lot of players, that's the dimension Newcastle's owners will like. I think it makes sense that the manager will have to understand that."