The midfielder posted a series of photos from his life away from the football pitch earlier this week and among the selfies, gym pictures and outfit snaps was a shot of the star enjoying a meal out in the Newcastle city centre... with his dog.
Willock appeared to have taken his cockapoo Teddy out to late-night bar Pleased to Meet You and propped his dog basket up on a chair in the restaurant so the two could lock eyes over a romantic meal.
The 23-year-old has previously admitted that Teddy lives a "spoiled" life under his ownership with a daily dog walker and afternoon grooming sessions but Newcastle fans couldn't help but feel their hilarious date was a whole new level.
Pleased to Meet You on High Bridge described itself as "a hip bar-restaurant offering comfort food, including burgers, plus craft beers and speciality gins" with the venue sought out by cocktail lovers on Tyneside.
In the post Teddy and Willock cast their eyes over the Pleased to Meet You food menu which includes a Steak Burger for £16, Confit Pork Belly for £18 and Chalk Stream Trout Risotto for £19.
There are also options to share for two with a Horse Hung Butchers Tasting Block coming in at £79 and including 29oz of rump sirloin and fillet, which we imagine Teddy might have been tempted by.
Commenting on the hilarious post on Twitter, one Newcastle fan said that Willock "must be a comic" and labelled the snap "so cute".
One added: "Bet that dog eats better than me."
Another witty Magpies fan still riding the high of Champions League qualification said: "Making up for not being home for tea next year."
Willock talked about his relationship with Teddy in October last year, who helped him adjust to life in the North East after moving up from London.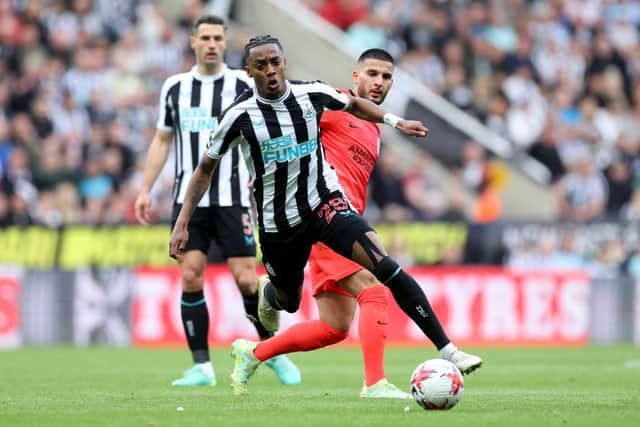 Speaking to the club's official site, he explained: "I didn't realise how hard it would be to change so much of my life, and to be on my own.
"I didn't really consider the mental side of it too much. I just thought, 'yep, I'm going to sign for Newcastle', and that's it. I didn't consider moving up here on my own, living on my own, not being able to see my friends when I want to, being out of touch with my family.
"It affected me around the training ground and on the pitch. I was a bit down. I wasn't as happy as I could have been. When I'm not happy I can't play my best football, you know? That's how it affected me.
"Now, I'm feeling much happier. My mum and dad have moved up, I've got a dog, I'm loving life in the outskirts of Newcastle. I'm much better now."