Newcastle United Supporters Trust member Alex Hurst has revealed his pride over the outcome of the 1892 Pledge - that will see over £210,000 donated to local charities.
The pledge - which received the support of the likes of Warren Barton and Alan Shearer - was initially setup to either buy a share in the Magpies or safeguard the future of the club should it be needed.
However, it was also stated that should the club go through a successful takeover process, the funds donated would be handed over to local charities in the North East.
'This is out worst-case scenario - a lot of money going to charity'
Following the PIF-led consortium's takeover of the club in October, Supporters Trust members have now voted to end the pledge and a process to identify suitable local charities will begin shortly.
Hurst told Newcastle World: "We are very happy, this is our worst-case scenario with a lot of money going to local charities.
"We didn't manage to get a share in the club, or rescue the club if it needed rescuing, but they were also worst-case scenarios.
"This was all about supporters coming together to do something positive in the local community and it looks like we are doing that.
"I am very proud of it, a lot of work went into it, it took me around three year to organise and get it off the ground.
"We never thought we would have this much money at this point. There are over 6,000 people have pledged, that's a lot of people. Over £210,000 collected is a lot of money and we could have kept it going and reached our first commitment to run it for a year and see what happens.
"The reason we didn't do that was because of a material change, which was a change in the ownership of Newcastle United. I think everyone at the Trust and everyone that has pledged should be proud of what we have done because a lot of people in this region are going to be positively impacted by it."
'The picture off the pitch looks bright for NUFC'
Despite ongoing concerns over United's Premier League status, as Eddie Howe's side battle against relegation, Hurst believes the future is bright at St James Park.
The Magpies are at the centre of daily speculation regarding new additions to their squad during what is a hectic January transfer window.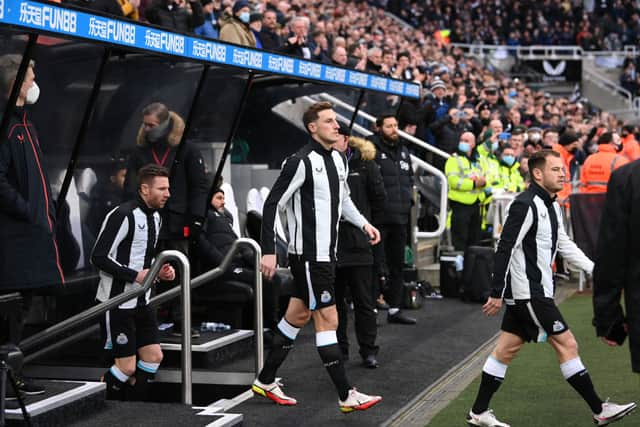 England star Kieran Trippier and Burnley striker Chris Wood have already joined the club at a cost of around £37million and more players are expected to join over the coming weeks.
Hurst is excited about what lies ahead and is fully supportive of the new ownership as they look to implement changes on and off the pitch at St James Park.
"You only have to look at the January transfer window where there is serious money being invested into the team, which hasn't happened in a long, long time at Newcastle United," he said.
"I think the owners share an incredible support from the vast majority of the fanbase, certainly the Trust.
"Our membership has consistently backed these people when they were trying to buy the club and now that they are here.
"You see results aren't what we want them to be - but the picture off the pitch at Newcastle United looks incredibly bright."
The new owners of the club reached out to various outlets on Tyneside as they awaited news on the progression of their prolonged takeover bid.
Discussions have been held with members of the supporters trust - but both parties believe the main focus should be on the completion of a successful January transfer window before more meaningful supporter engagement processes can be put in place.
"I think the club have been pretty transparent that the January transfer window is their main priority and that is the same as supporters - so we are on the same page there.
"I think the plan is to start a supporter engagement process after the transfer window and we would look to help them with, of course.
"The Trust have had some conversations with them, I've had some conversations with them and they've been nothing but supportive of the Trust and of the fanbase as a whole.
"They gave us some advice, which we are really grateful to have, so it's been a really positive experience for the whole fanbase, but the Trust too."