Newcastle United could face a nightmare Champions League group draw that pits them up against Barcelona, Bayern Munich and AC Milan as pots for the European competition are drawn up.
That's just one scenario for Eddie Howe's side, who are set to appear in Pot Four, the lowest ranking of the groups to be drawn from.
Each Champions League group is made up of one side from each of the four pots that play home and away fixtures against one another before the top two in each group progress to the knockout stages.
Pot 1 in the group stage draw is made up of Premier League, La Liga, Serie A, Bundesliga, Ligue 1 and Primeira Liga winners along with teams that win the Champions League and Europa League - should Man City this year's Champions League, Dutch champions Feyenoord will also find themselves in Pot 1 as Pep Guardiola's side already have the league title in the bag.
Pot Two, Three and Four are then decided by the UEFA club coefficient. Seasons of Premier League struggle before Eddie Howe and decades since last appearing in the Champions League means Newcastle will be in Pot Four.
Here is what the projected pots look like:
Pot One - Manchester City, Barcelona, Napoli, Borussia Dortmund, PSG, Benfica, Feyenoord and AS Roma or Sevilla.
Pot Two - Bayern Munich, Real Madrid, Manchester United, Inter Milan, Atletico Madrid, RB Leipzig, Porto and Arsenal.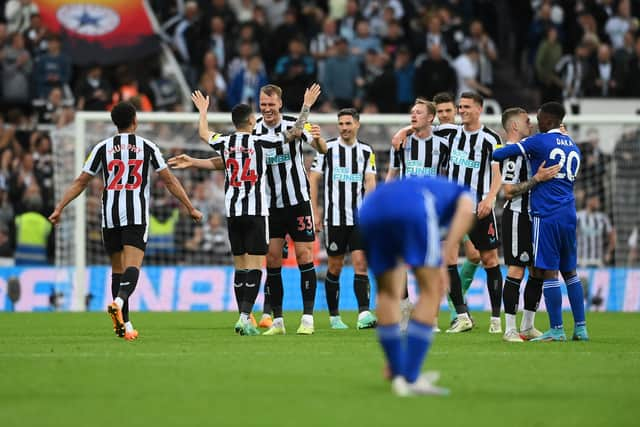 Pot Three - Shakhtar Donetsk, RB Salzburg, Dinamo Zagreb, Rangers, AC Milan, Braga, Lazio and Red Star Belgrade.
Pot Four - FC Copenhagen, Young Boys, Real Sociedad, Galatasaray, Celtic, Newcastle United, Union Berlin and RC Lens.
Eager Newcastle fans may eye up big-name clashes in the early stages, but Eddie Howe may not be too thrilled by the possibility of Barcelona, Bayern Munich and AC Milan in the group stage.
A lucky draw however could also see Newcastle compete against Feyenoord, Porto and Union Berlin in the group stages.
The Champions League Group Stage draw will take place on August 31 before the competition begins on September 19.