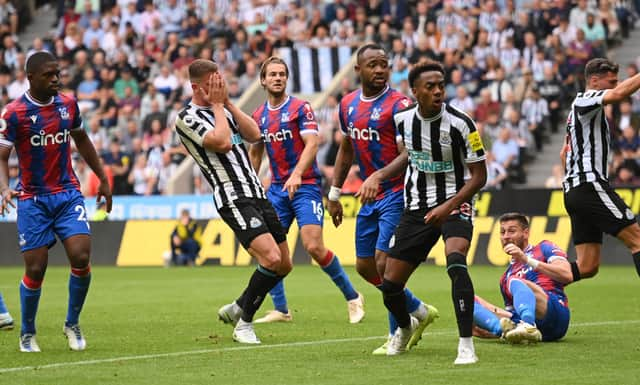 Newcastle United fan group Talk of Tyneside has called for the club to make an official complaint to the Premier League after yet another controversial call went against them.
An own goal by Tyrick Mitchell was ruled out by referee Michael Salisbury after Joe Willock was adjudged to have fouled Crystal Palace goalkeeper Vincente Guaita. Replays showed Mitchell shoved the Newcastle United man into the the visiting keeper before turning into his own net.
As a result, United saw two Premier League points slip from their grasp at St James' Park.
That call comes hot on the heels of Alexander Isak's disallowed goal at Liverpool, the eight added minutes in which the Reds scored despite five being announced as well as no penalty given against Man City for a foul on Fabian Schar and Callum Wilson's disallowed goal at Brighton.
And fans are now believe referees are bringing the game into 'disrepute' with their decision-making this season.
Talk of Tyneside fan group this evening released a statement in relation to the officiating in Newcastle v Palace. It reads: "Today's decision by VAR to overturn a perfectly acceptable goal scored by the side is the latest in a series of incorrect calls against us, ultimately costing the club points in another league fixture.
"We urge the club to lodge a formal complaint about today's decision and demand a full explanation from the officials, in the context of the rules of the game, as to why the disallowed goal was not allowed to stand.
"Week in, week out failures by officials are bringing refereeing of the sport at the highest level, into disrepute."