The Newcastle United Fans Food Bank has issued an urgent appeal for support as demand for help intensifies.
The recent rise in the cost of living has been a sucker punch for those struggling to make ends meet, meaning the West End Food Bank's work is vital.
Despite unwavering support from Newcastle fans, who come in force to give money and donations to the stand outside St. James' Park on matchdays, the Food Bank are having to spend more and more money on extra supplies.
Volunteer Bill Corcoran said: "From our experience, people have been even more generous than they were. Certainly demand is also up.
"There was a time four or five months ago when the West End Food Bank was having to buy six thousand pounds worth of food every month just to feed people.
"Now it's having to spend £10,000 a month on top of what it gets through supermarkets, charitable donations and the rest, just to keep people fed."
The Food Bank has been operating for nearly 10 years and the football club's new owners contribute the equivalent of what is raised by football fans at each match.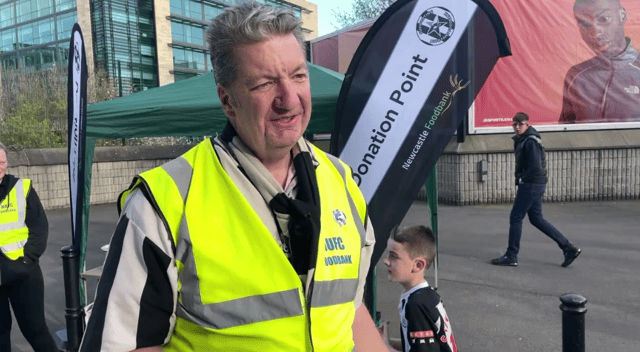 Outlining the mission, Bill said: "There are more hungry people than ever before.
"After Covid, with the cost of living going up, people are finding their pay packets don't expand to feed their children in some cases.
"It's about looking after each other and leaving no one behind.
"Making sure children go to school having had their breakfast with something to eat at dinner time and come home for their tea having learnt something.
"It's about people being able to go to work and think there's something in the house for after they've done a day's work.
"It's about people not feeling as desperate as they otherwise would do."
Newcastle United fans can donate to the Food Bank on the corner opposite the Sir Bobby Robson statue every matchday.
Donations can also be made online here.