Runaway dogs to Twitter jester - 7 iconic Allan Saint-Maximin headline-making moments at Newcastle United
Newcastle United striker Allan Saint-Maximin could become the first big name player to leave the club this summer as Financial Fair Play pressures grow.
Watch more of our videos on Shots!
and live on Freeview channel 276
Visit Shots! now
Newcastle United forward Allan Saint-Maximin is nearing an exit from St James' Park after four years in the North East.
Magpies boss Eddie Howe confirmed that the charismatic Frenchman was 'in early discussions' over a move away as he admitted the 'impact' of Financial Fair Play on the club's spending desires.
Saudi Pro League giants Al Ahli are reported to want the 26-year-old who has become a bit-part player under Howe.
Should he move on, Saint-Maximin will be missed by many Newcastle United fans after winning supporters over with his charisma during his time at the club. NewcastleWorld looks at seven of his headline-making moments since joining the club.
Saint-Maximin's Penicopter hashtag
In early 2020, one Newcastle United fan got a little carried away when celebrating a Magpies win over Everton in the FA Cup by whirling his private parts in a helicopter motion while in the stand.
Magpies fan Mike Pendridge was slapped with a lifetime ban for the indecent exposure and Saint-Maximin took to Twitter to jokingly sympathise with the supporters.
The player wrote: "That's messed up since we didn't see anything because of the cold night (hopefully) #WeWillRememberYouPenicopter."
'Thank you, Patrick'
Saint-Maximin has earnt himself a reputation as somewhat of a social media jester over the years and it's a brave opposition fan to question the Magpie.
One Everton supporter learnt that the hard way in 2021. After St-Maximin had inspired Newcastle United to a win over Burnley, the Toffees fan labelled the striker an 'overrated player that wouldn't make our bench'.
Posting an image of someone holding a microphone pointing at a rubbish bin, the player responded: "Thank you for your comment Patrick."
Saint-Maximin's reply gained over 236,000 likes on Twitter as followers labelled the slapback as 'unreal'.
Local students rescue Maxi's missing dogs
In May 2021, Allan Saint-Maximin caused a wild goose, or rather dog, chase in the Newcastle suburb of Jesmond.
The forward is known to reside in the property hotspot area and one day the star's dogs escaped from his home and were rescued by two university students when found wandering around St George's Church, who had to look after the four-legged friends for two hours.
The students claimed that eventually Saint-Maximin rolled up in his Bentley to retrieve the pups, but didn't pause to thank them.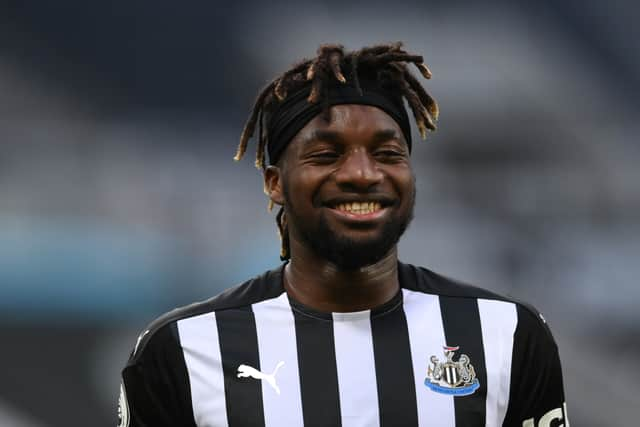 One told the Daily Star: "He called out the dogs' names and they ran in the side door on to the back seats. I was like, 'Yo mate, you're welcome for finding your dogs. Are you not concerned where they've been?' He didn't say anything.
"He just put them in the car and sped off. If I'd lost two of my dogs I would've been so thankful. He just shrugged it off – we thought it was a bit weird."
Banter with the Black Cats
The star has truly leant into Geordie culture since arriving on Tyneside, and that includes picking up a dislike for local rivals Sunderland.
When a Black Cats fan messaged Saint-Maximin to share his thoughts on the Newcastle United team, the Frenchman had the perfect clip to reply with.
Sharing a video of pop star The Weeknd lost in a mirror maze during his Superbowl performance, Saint-Maximin wrote: "The Premier League calendar looking for Sunderland season after season."
'I'm looking for a song...'
Saint-Maximin has never actually experienced a derby but found himself clashing with Black Cats fans in 2021 when the Wearside team were condemned to another year in League One after Play-Off heartbreak.
The Newcastle United man had been subject to mocking from Sunderland fans earlier that year when the Magpies were favourites for Premier League relegation and, with the Black Cats' fate confirmed, wrote online: "I'm looking for a song that a lot of people sent me in March but I can't remember the title, it was something like "Sunluns going up and the mags are going down. Who can help me, please?"
Steve Bruce FIFA pace
When FIFA 24 launched a gameplay clip of former Newcastle United boss Steve Bruce running onto the pitch to celebrate a win went viral. The sight of a particularly trim-looking Bruce sprinting across the turf had fans, and Saint-Maximin, chuckling.
EA Sports got on the bandwagon too and jokingly released a Steve Bruce Ultimate Team card with 99 pace.
Saint-Maximin, who had been awarded an impressive 91 place from game creators, replied: "Can you explain me @EASPORTSFIFA why did you give me 91 pace and 99 pace to Steve Bruce?"
Newcastle United star turns game creator
Saint-Maximin is known for his flair on the pitch but he has proven to be equally a creative mind away from football too.
While at Newcastle United the Frenchman launched his own game Helios. For those who aren't familiar with Helios, here's how Saint-Maximin explained it in December 2021. He said: "I worked on the board game for two years. I'm really happy as I think we reached our goal - to bring different emotions, a lot of joy and generosity. People can win quite a few things through the game, which is a great achievement for me.
"Helios is often regarded as the God of life and creation who brings joy to people's hearts. It comes from Greek mythology, just like the game."
Through the game, Saint-Maximin has interacted with fans and even gave one Newcastle University student the chance to create custom art related to the project and hand it over during a visit to his Jesmond pad.