'You bet': Great North Run legend Sir Brendan Foster on reliving 1974 Wembley stunt for free Newcastle tickets
Sir Brendan Foster remembered his triumph before the 1974 cup final and even managed to land a dig at Sunderland in the process.
Watch more of our videos on Shots!
and live on Freeview channel 276
Visit Shots! now
Great North Run founder and North East legend Sir Brendan Foster joked that he thought about pulling off his Wembley Stadium stunt of 1974 once more to score some tickets to watch his beloved Newcastle United at Wembley Stadium.
The Olympian is an outspoken lover of the Magpies, attending games throughout his life and intertwining the football club with his career when the moment came. Earlier this year, his Great North Run team gave out free entries into this year's event for every goal scored by Newcastle against Southampton in the Carabao Cup semi-final.
At the time, Sir Brendan said: "Cup semi-finals and dare we say it, finals, have been quite rare in the North East. I've been a die-hard Magpies fan all my life, so like most of the city I'm really looking forward to tonight's match."
"To celebrate, we're giving away a free AJ Bell Great North Run entry for every goal scored by Newcastle. The more they score the more we'll give away. Best of luck to Eddie and the team tonight. Howay the lads!"
In an interview with The Mirror, Sir Brendan has remembered running around the Wembley pitch before Newcastle faced Liverpool in the 1974 cup final.
He said: "People say to me the last time a black and white shirt did a lap of honour at Wembley was me in 1974. I wish they were kidding.
"They called the previous year but Sunderland were in the final and I said, 'No thanks. I'm not coming to Wembley to watch them'.
"This time was different. Tickets were like gold dust. We were amateurs so I said I couldn't take money but I'd do it for a dozen tickets."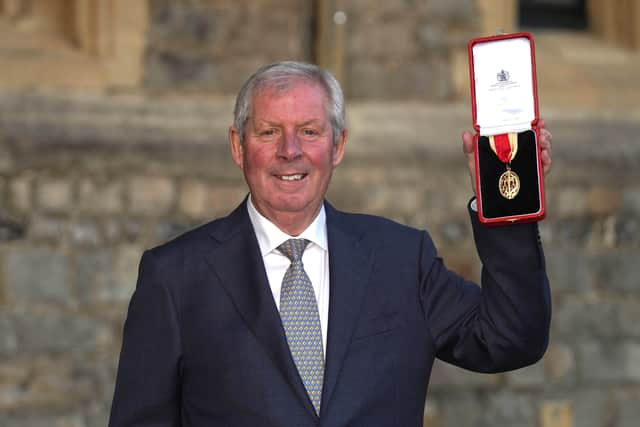 It made for an iconic moment as the star donned a black and white vest, triumphed in the race and proceeded to throw his top into the crowd of adoring Newcastle fans.
The heralded runner was old enough to remember the last time Newcastle won a major trophy, which was at Wembley in 1955. However, Sir Brendan missed out on seeing it in person with only his father managing to score a ticket.
Coming out of the win against Southampton in this year's semi-final, Sir Brendan bumped into former Newcastle star Bobby Moncur at St James' Park. The two bantered about the Great North Run father's Wembley moment, to which Sir Brendan admitted might need recreating for a ticket.
Brendan said: "Coming out of St James' I bump into Bobby Moncur. Bob was our captain in '74 and he says, 'Hey Bren, you running round Wembley again this time?'
"I said: 'If I get a dozen tickets, you bet I will'. He replied: 'If you get a dozen tickets I'll run with you'."