"The good thing is, you're still standing." Cocker opens to the packed Park Stage crowd. They have endured the primordial three days of field living and now gather around Jarv Is, who are on top form as ever.
When they hit Newcastle's Boiler Shop in November last year, Jarv Is were on a similar frequency to the one featured here at Glastonbury's Park Stage.
The former Pulp frontman has no intention of looking back on that popular Britpop past, instead steaming ahead with new tracks, old rarities and a couple unreleased teases.
Opening with She's A Lady as Jarv Is often do is a nice choice - a rift closed between Cocker's eras old and new with a pre-Britpop boom Pulp cover with changed lyrics and new instruments to boot.
Full of that Sheffield charm and philosophical witticisms that highlight his lyrical style, Cocker hasn't changed all that much in his mannerisms or his style.
Lobbing sweets into the front row, throwing new songs into the fray and bringing that unusual, gangly charm to the stage marks Jarv Is as a comfortable, knowing set.
Taking new tracks Proceed to the Route and Lockdown out for a spin is a nice throwback to Cocker's days of debuting Common People way back when it was barely finished on the NME Stage in 1994, but not as great as that working-class anthem proved.
But a surprising inclusion of This Is Going to Hurt is a welcome one and a cracking outing of Further Complications was inevitable, but the microphone trouble was a bubble burster.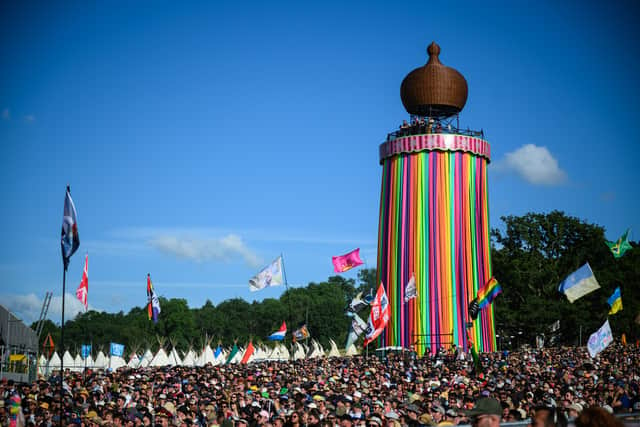 Still, managing to recover from that microphone mishap for Sometimes I Am Pharaoh in the nick of time marks possibly the best part of the set - a resoundingly great outing of the Beyond the Pale track.
If any comparison of quality is needed, knowing that the group's first album, Beyond the Pale, is an edit-heavy series of tracks performed live on tour is a good place to start.
Jarv Is have that live quality, they must do if they're so reliant on those moments for their studio mixes - and that quality, the tightly-wound musicianship, was displayed on Park Stage.
He can still whirl the microphone around, he can still throw a few moves and kicks and, crucially, can still delight a Glastonbury crowd. That's the triple. Nice one Cocker.
Not as good as they were at Boiler Shop, but it turns out being front row and covered in spilt Moretti is a better atmosphere than the homemade disco aesthetic of Glastonbury streams.