Kaiser Chiefs' Simon Rix talks burnout, big reunions and setlist management
Kaiser Chiefs bassist Simon Rix sat down to talk their upcoming tour with The Fratellis and The Sherlocks, as well as the responsibilities of being in charge of their setlist and the burnout hitting new musicians
Watch more of our videos on Shots!
and live on Freeview channel 276
Visit Shots! now
Bass guitarist Simon Rix of Kaiser Chiefs fame sat down for a chat with Ewan Gleadow, where the platinum-album artist spoke of Sam Fender, setlist management and the fear of performing live on stage.
Ewan Gleadow: How good does it feel to be back on tour?
Simon Rix: It's good. We've not actually done a tour, just lots of little bits and pieces. Obviously, we stopped because of Covid. When we first got back after that, it was crazy, because everyone was, I think, desperate for live music. The first performance we did was Latitude. It was a nice evening and everyone had been there for the weekend and everyone was just ready for a good time singalong and all that kind of stuff. So that was great. Since a few weekends ago, at the beginning of October, we finished doing our gigs from 2020 [to promote the latest album, Ducks], everything that had been moved and then moved again.
I feel like this tour that we're about to start in November is a fresh start, the beginning of something new, because all those gigs were really booked to advertise the last album, which came out in 2019. It's strange that we're still doing gigs for that.
Gleadow: Ricky Wilson described the band in 2019 as Kaiser Chiefs having "astonishing longevity." What do you think the reason for that is? Why has it lasted so long? It's quite impressive when a band can stay together for so long.
Rix: Even more so now. I think it's 20 years next year [for Kaiser Chiefs], so it starts to be quite a long time. When you talk to people too, I do some management and I was talking to one of the guys I manage and his girlfriend and they said about I Predict a Riot, which they use to walk out to, or sometimes play when they win at Leeds United. He said 'Is that amazing?', and I'm like, 'Yes, very strange.' But, you know, it feels a bit separated from me as a person because we wrote it 19 or 20 years ago now. There were people that were one year old when that was getting written.
It's just a bit crazy really. I guess that just comes with being a bit older. I think most bands come along and have a bit of success and then disappear, and that's mainly because people have different ambitions or people can't get along, all these sorts of things. We've just managed to find a way to keep it together, keep everybody happy. We lost one member along the way, but we managed to find a way to keep it together.
We spend a bit more time apart now, you know, where people have kids and do whatever they want to be doing. When we get together on, you know, the beginning of November when we go to Swansea, which is the first gig, we'll be excited to see everybody again and just hang out. We do this thing which I still think is weird where we'll be in Newcastle or London or whatever and there's lots and lots of amazing things to go and do and see, but we end up just sitting in a room together for like 16 hours and then go and play and then come back and sit in a room again. So we must enjoy this company still, which is nice. Yeah.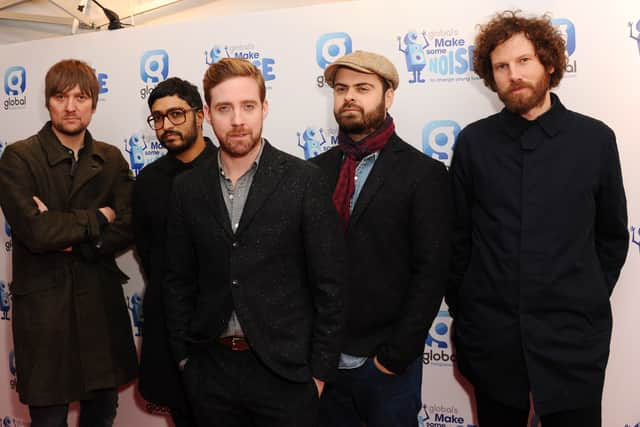 Gleadow: That's always reassuring. There are some nice rooms in Newcastle. I've heard as well you're in charge of the setlist for gigs. How difficult is it to hit that perfect balance between hits and album material?
Rix: I think the hardest thing actually is being brave and mixing it up. There are certain things that we like to do. The only one we end on for every gig is Oh My God. That's always a good starting point. The end is done, finished. But not to just work out where the songs fit the nicest and then just play that set forever. I've been thinking about that for the November gigs for a couple of weeks now, which is unusual because usually I just have a quick think, play it, maybe play with the band and then we go: 'okay, that's the set for that part of the tour.'
But usually, because there's a new album coming out, that has a bit of impact, or usually there's some sort of thing to thread around in that way. We are going to play some new songs. I'm trying to be a bit braver and play some songs we don't usually play. Always play the hits, obviously try and mix it up a bit for us to be interested and for everybody to be interested. I was thinking this morning about being in charge of the setlist. Captain Setlist. I think it started up as a bit of a joke where I was basically writing down what everybody else wanted to do but then I've been doing it for about 15 years now. So it is actually, probably, my job. I could put it on my CV. Setlist coordinator.
Ewan: Depending on audience interaction and mood, does that set list ever change off the cuff? A moment were you need to change a track here or there if the audience responds differently?
Rix: Very occasionally we will change things mid-gig. When you do a small gig, I think it's really easy to mix it up and change things. But when you're doing bigger gigs, because there are lighting cues and things that video needs to sync up with, if you start changing stuff even on the day, then people start getting upset. Most nights, we try and have a couple of songs which rotate or fluctuate or whatever, like the last couple of tours we would have an audience member choose a song out of a select few. We did it by hooking a duck on the last tour, which is quite fairground-like.
Try and keep people happy and then, as I say, do something different next tour. If we're doing festivals then I think you're more inclined to stick to that core. Play the hits. You've got people coming in who maybe don't know your songs quite as well. That's always surprising because we've been around so long. I think we try and dig a bit deeper.
Ewan: It's the right place and time to do it especially since you've come back off the album tour from Duck. Teaming with The Fratellis and The Sherlocks is impressive too. Are you looking forward to touring with them?
Rix: Definitely. We played some gigs for the NHS key workers and those were a nice warm-up for the tour, which was good. From my point of view as a headliner, these are good support bands and it makes the gig. I remember when we were younger we'd sometimes choose a cool zeitgeist band that we all really liked to go on before us. It's always fun, what you really need is someone to get everybody in the mood. Those bands we chose are the perfect choices. I think everyone is excited about the bill, we're looking forward to getting started.
Ewan: Just on that note too of touring, there are a handful of bands and artists who have recently said they would pause their tour, held their hands up and said they need to take a break. Are tours as relentless as they appear to be?
Rix: I think Kaiser Chiefs are in a nicer position. I would say we're going to play some new music on the tour but the album isn't quite there yet. Maybe it should have been out before the tour, but we have the luxury of releasing it when it's ready. Whereas I think new artists, Sam Fender for instance I think is one…
Ewan: Yeah Sam Fender released a statement, Wet Leg and Yard Act too.
Rix: It's really hard. I have something I worked out which was quite nice. We reflected on that change which was nice. There were so many things I've forgotten about [on tour] that people remind me about. I'm like, 'oh, yeah, that did happen'. I was operating in some sort of safe mode, you know, like computer safe mode. There was so much happening every day. There were the best parts of winning awards, travelling, doing amazing gigs, playing amazing festivals, meeting people and doing that, but I had to do something to keep myself from going crazy. I had to sort of, like I say, I wasn't fully operating somehow.
I think when you first start, the first couple of albums are expected by whoever, management maybe, but I'm also sure we wanted to do this. You're really keen to be successful. You've been waiting around writing songs for years and all of a sudden you've got your opportunity and want to make the most of it. But we went to America eight times in 2005, plus the two UK tours and all that other stuff, it's totally relentless. We played a gig every single day or did a radio show or did both. Sometimes in America, especially, we would get up in the morning, go and play an acoustic set, go to another radio station and talk to them, then a sound check, some sort of other promo and then do a gig and get on a plane. You do that so often and eventually, it can wipe you out.
When we were doing it, nobody was asking or saying 'are you alright?' to us. They just said 'here's something else to do, but don't worry, you can sleep at Heathrow Airport.' It was brutal. I remember one time we went to do The Angry Mob video shoot and we did a festival in Denmark. I remember seeing the sheet of paper for our schedule and saying 'I can't work out where the hotel is. Where's the hotel?' and they said 'Oh, you're going to get driving to the airport, get on a plane and then do the video.' I'm not sure I'm going to look my best after zero hours sleep.
I think it's good that people like us are allowed to say 'I'm feeling burnout and I need a little break'. People having a week off here or there, you know, it really helps you recharge and reflect. It was weird saying that I'm reflecting on stuff that happened to us 15 years ago during Covid, because there was literally no time to process it at the time.
Ewan: Absolutely, it's that reflection that helps clarify things. Did you have the chance to reflect on some of your tours too, the gigs in Newcastle for instance?
Rix: Definitely. I always like coming to Newcastle. We've done a lot of good gigs in the arena and I've been to Whitley Bay a few times, that was pre-Covid. I really enjoy Newcastle, I didn't know they had a seaside. When I went to Whitley Bay it was very nice, the big white building [Spanish City] was nice. But Newcastle is the most intimate stop on the tour. Let's say smallest, but most intimate too. It'll be up close and personal. You'll be able to see the fear in our eyes. 
Ewan: Is that something you still have? That fear on stage?
Rix: Not too much to be honest. I think we've done it a lot and it depends. Sometimes there's a unique situation where we get nervous and I think Ricky [Wilson] gets more nervous than me. I feel like nervousness is good, right? Being nervous means you're excited and that means it's something that matters to you. I feel like I'm nervous but it's exciting and positive. But it's like anyone, like you with your job, after the 500th time you've done it, you can't be scared about it because you know it'll be alright.
Kaiser Chiefs will perform at O2 City Hall on November 7.