From top-class restaurants to free museums and popular markets to quirky cafes, there's so much to do in Newcastle.
Tourists visiting for a weekend or Geordies hosting friends and family may sometimes feel so overwhelmed by all that's happening on Tyneside it can be hard to pick what to fit into a weekend trip.
Whatever the weather, there's food to be eaten, cocktails to be drunk and shows to be watched, as well as plenty of Geordie cheer to keep you smiling.
Everyone has their own hobbies and interests, but if you're looking for a general weekend plan then NewcastleWorld is here to help.
Here's what there is to do over every minute of a 48-hour trip to Newcastle.
Friday
6 pm - Sup a cocktail at The Botanist
Presuming you're getting in after work on the Friday night, the first thing you should do to relax into the weekend is sup on a cocktail at The Botanist.
The bar is Instagram-ready and serves up a wide range of cocktails, as well as your classic drinks.
8 pm - Feast at Tomahawk Steakhouse
A short walk from The Botanist is Tomahawk Steakhouse.
The restaurant is one of the top-rated in Newcastle and sits with pride of place on the Quayside.
It's a haven for meat lovers with its unwavering quality, but does have options for vegetarians and vegans too.
Leaving after night has fallen with your belly full and strolling along the Quayside's sparkling lights is the perfect vibe for a Friday night.
10 pm - The night continues at Lane 7
Walk off your dinner with a 20-minute stroll up the hill, through the city centre and to Lane 7.
The venue is primarily a bowling spot but is so much more than that. There's a well-stocked bar, ping pong, pool tables, beer pong and even karaoke.
Saturday
9 am - Get amongst nature at a parkrun
The thought of starting your Saturday early with a parkrun may not appeal to all - especially those who got carried away in the Lane 7 karaoke booth on Friday night - but there is good reason to get yourself out of bed.
There are many parkrun courses accessible from the city centre which showcase the best of Tyneside.
Walk, jog or run the friendly five-kilometre event alongside cows on the Town Moor, in the leafy paths of Jesmond Dene or in the shadow of St. James' Park in Leazes Park. If you have a car, you could head out to Whitley Bay on the coast or along the river to Prudhoe.
10 am - Pick up a sweet treat at Pink Lane Bakery
Once you've completed your parkrun, you'll be ready for a killer breakfast.
Pink Lane Bakery in the city centre has all the sweet treats and goodies you could ever want.
If you swing by straight after parkrun, you'll have the pick of the bunch too.
12 pm - Visit the residents of Dog and Scone
Once you've freshened up, it's time for a dose of cuteness.
In the heart of the city is dog cafe Dog and Scone.
You'll enjoy a hot drink and slice of cake whilst petting the cafe's family of four-legged friends.
You're sure to forget about all of your worries in the process - but you should book in advance.
3 pm - Watch the mighty Magpies
Newcastle is a city that lives and breathes football.
When Newcastle United play at home, the city's streets are flooded with black and white with spirits high. It truly is a special sight.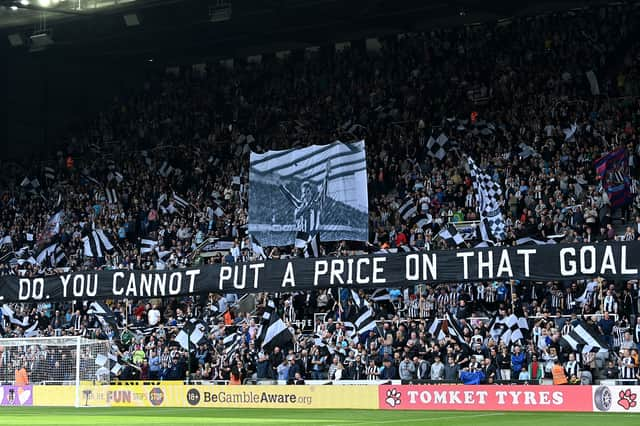 Tickets can be hard to come by but are worth trying to sort if you're up on a matchday. If Newcastle are away you can still soak up the atmosphere in one of the city's watering holes, such as the famous The Strawberry.
6 pm - Go crazy on toppings at Pizza Punks
You won't be spoilt for options to eat your tea on the Saturday night.
Customers can fill pizzas with as many toppings as their heart desires in a very modern restaurant.
It's always lively at Pizza Punks and, again, another worth booking.
Part of the reason we've recommended Pizza Punks is you won't be far from Newcastle's theatre and concert scene.
If you're a musical fan, catch a touring production at the Theatre Royal. For comedy, there's The Stand Comedy Club and some of music's biggest stars come to NX Newcastle, the Utilita Arena, O2 City Hall and The Sage in Gateshead.
Check what's on before your trip and we are sure there'll be something to pique your interest.
11 pm - Boogie on the Bigg Market
If you know anything about Newcastle, it's probably that it has a buzzing nightlife.
Post-show or concert, head over to the Bigg Market for a boogie.
Grab a stein and dance on the tables at Bier Keller, groove to retro classics at Flares or try something more modern at Soho or Tup Tup Palace.
Sunday
10 am - Browse the Quayside Market
Every Sunday morning the streets of the Quayside turn into a market.
From trinkets to clothes and hot dogs to brownies, the stalls have all sorts being sold.
Start your day by strolling along and chatting to friendly sellers. You'll struggle to resist having a nibble on something along the way.
12 pm - Take in the displays at the BALTIC Centre for Contemporary Art
Once you've checked out the market, walk over the Millenium Bridge to reach the BALTIC Centre for Contemporary Art in Gateshead.
Get a culture kick at the free museum whose exhibitions span multiple floors.
At the top of the building is one of the best views over Newcastle and the perfect photo spot.
3 pm - Finish your stay with a roast at The Bridge Tavern
Many pubs across the city offer tasty roasts, but a local favourite is The Bridge Tavern, right under The Tyne Bridge.