How a Gateshead woman's horrific domestic abuse experience led to her new Safer Date 'life mission'
Safer Date looks to make the online dating world a safer place
Watch more of our videos on Shots!
and live on Freeview channel 276
Visit Shots! now
A Gateshead woman is determined to use an awful experience of domestic abuse to create a safer online dating landscape.
Elaine Parker is the brains behind Safer Date, the only dating app in the world to make ID and criminal background checks mandatory for users.
The app has garnered thousands of users in just a couple of months and recently featured on BBC documentary Dating's Dangerous Secrets.
Elaine sat down with NewcastleWorld to tell us all about the app and its creation.
Q: Hi Elaine, thanks for joining us. How did the idea to create Safer Date come about?
A: I decided to try online dating myself in 2016, a few of my friends had success on there.
I tried one app which was free and thought I had nothing to lose.
I chatted with a few people and then met this guy, it was great. Second date the day after, third date a few days after that.
He ended up moving in with me and my son, we ended up getting engaged eight months later and the night of the engagement party he changed and became the absolute monster.
He put me through domestic abuse for months, his alcohol abuse was horrendous, that turned to sexual assault and then rape.
I finally got out the house and then it turned to stalking and harassment as well.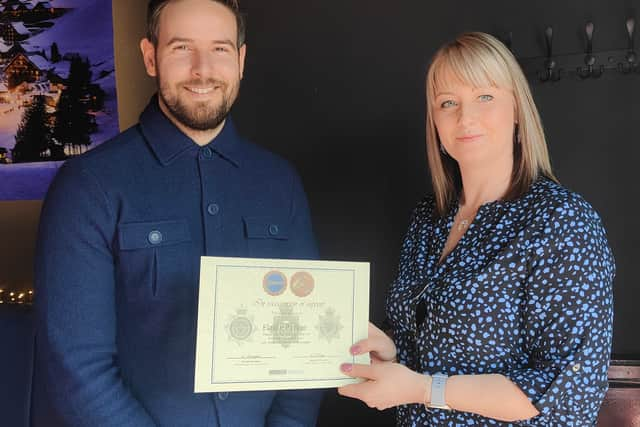 When I got the police involved, loads turned up which I thought was strange at the time.
I then discovered he had a really long history of domestic abuse and was very well known to the police.
His ex-wife and children lived in a safe house and I had a detective in my living room telling me that me and my son needed to go and do the same because it was dangerous.
It was an awful lot to go through and he's in prison for what he did to me and on the sex offenders list for life.
When he gets out next year, there's nothing to stop him from going back to online dating which I find is absolutely horrendous.
I've made it my life's mission to tackle this and that's why I created Safer Dating.
Q: What's wrong with current dating apps on the market?
A: I had no idea how unsafe dating apps really were.
I assumed they would be governed by the Online Dating Association for example, but they are absolutely not.
The Online Dating Association is like a badge of honour, you pay to be a member.
It gives customers a false sense of security.
Q: What does Safer Date offer?
A: It's the only app in the world that does a real-time biometric ID check to make sure that people are who they say they are.
We also do a thorough global criminal background check.
Not just basic convictions in the UK, global convictions, global cautions and police information so we can make it as safe as we possibly can for people.
Q: How has the app's launch gone?
A: The app launched on December 1, 2021. We've had just under 9,000 downloads in the last two months which is brilliant.
We launched it predominately in London, Manchester, Leeds and Liverpool. The reason is because of the population density plus domestic abuse rates are highest in those cities.
We are rolling out across the UK. The app is available in Newcastle and we have members on from the North East.
Q: Finally, what would you say to people who use other dating apps and don't realise the lack of checks currently enforced?
A: Before you put all your personal information into a dating app, have a look into the terms and conditions.
Do a quick Google search and see how many crimes are related to that particular app. You'll find a lot.
Have a look to see what they do to keep you safe.