It was an emotional weekend for Little Mix stars Jade Thirwall and Perrie Edwards as the two performed three homecoming gigs in Newcastle for the final time ever.
Jade and Perrie both hail from nearby South Shields and let the tears flow at multiple moments during the final show on Saturday night.
Even fellow group member Leigh-Anne Pinnock shed some tears as she thanked Newcastle for always making her feel welcome alongside her South Shields colleagues.
During the nearly two-hour show, it was one song in particular that the Little Mix stars struggled to sing without welling up.
The ballad 'Secret Love Song' is a track often dedicated to the group's large LGBTQ+ following and after Jade did exactly that in Newcastle a fan project saw the crowd hold up signs thanking the singers for their support since first forming in 2011.
As Perrie, Jade and Leigh-Anne struggled to make it through their verses, the Geordie crowd whooped in support with emotions running high.
At other moments on the night, the singers praised the North East for its raucous crowds and shared childhood memories.
During one pause in the show, Perrie said: "I saw so many artists here [at the Utilita Arena].
"Diana Ross, McFly, Clubland, The Saturdays... and I remember I came to the arena to see Paramore.
"Hayley Willams was literally my life. I left the arena and rang my brother, Jonnie, who's here.
"I rang him and I said, Jonnie, I'm going to do this one day, that's going to be me one day.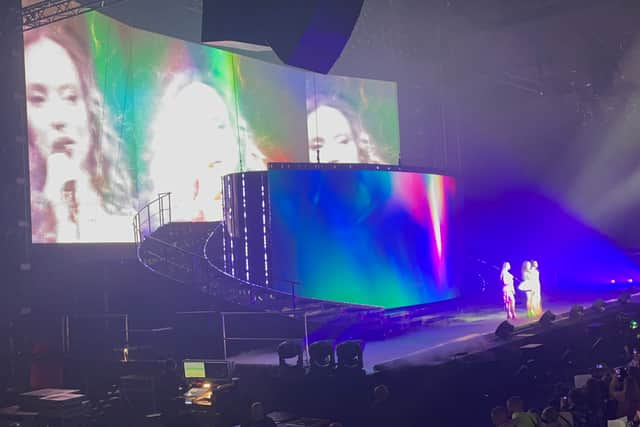 "He was like, kid, if you put your mind to it you can do anything, I promise you can do it.
"Now we're here and we can't believe we get to do this as our careers.
"If anyone in the audience has a dream, you can achieve it if you work hard and want it that bad."
Little Mix now go on to tour the rest of the UK throughout the rest of April and into May, culminating with three shows at The O2 in London.