Newcastle Airport has urged passengers to "not arrive any earlier for flights", despite the holiday rush this half-term.
Airports across the UK have been slammed this week as families look to make the most of the school holidays and head on what is, for many, their first trip abroad since the start of the Covid-19 pandemic.
With a four-day weekend on the horizon for the Queen's Platinum Jubilee, another wave of travellers will take to airports for a getaway.
In the North East, the dramatic queues and customer horror stories that have been heard at Manchester, Birmingham and London aren't happening with the same frequency.
At Newcastle Airport, data shows that 99% of passengers are passing through security in six minutes or less.
To ensure it remains that way, the airport released a Tweet begging customers to remain calm and only arrive at the usual time ahead of their flights - as stipulated by airlines.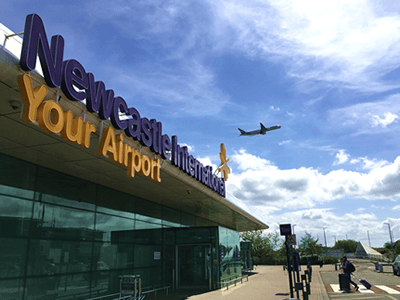 The Tweet read: "There is no need to arrive any earlier for your flight and we continue to recommend passengers follow advice from their airline as to how long before their flight the check-in will open.
"For any additional information, we recommend you contact your airline directly."
Speaking on preparations for a busy half-term at the airport, Leon McQuaid, Director of Aviation Development said: "Everyone here at Newcastle International Airport is preparing for the busiest half-term we've seen in a number of years, with over 160,000 passengers expected to travel to a choice of over 80 direct destinations and 100s more via our hub network.
"So far this summer, we have welcomed 12 new routes from Ryanair, including Milan, Riga, Zadar and Chania, a huge range of holiday destinations from Jet2.com and TUI and an abundance of choice thanks to all of our 16 airline partners.
"Having recently celebrated our one million passenger milestone for 2022, with most of these passengers travelling through airport security within six minutes, we look forward to welcoming even more passengers back to the North East's largest airport."