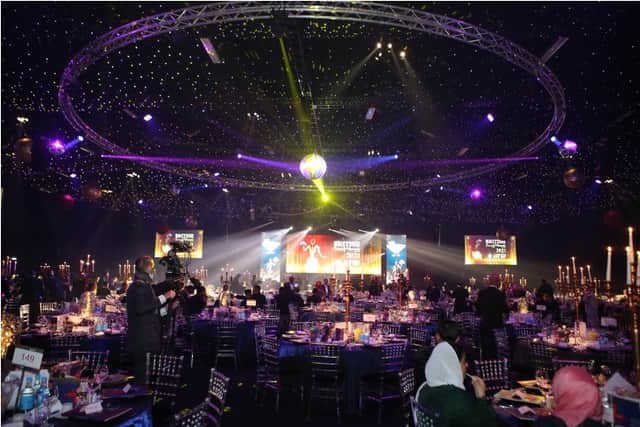 A Newcastle curry restaurant has taken home the award for Most Innovative Restaurant Concept at the British Curry Awards.
Khai Khai of Queen Street is known for its authentic Indian curries, using "elemental cooking techniques and heritage dishes perfected in villages and culinary hotspots across India since the dawn of time".
The restaurant said they are 'delighted' to take home the award.
In a Facebook post, they wrote: "We've been open to the public just under a year.
"Opened against the odds last December and the response from both the industry and customers alike has been amazing.
"Thank you to the team at The British Curry Awards for this award and for a great night.
"We will keep innovating to bring you the best Indian retro comfort food in the UK."
Since its opening Khai Khai has been sought out by big names including Hollywood star Harrison Ford and Newcastle United legend Alan Shearer.
After welcoming Mr Ford, the restaurant shared: "A STAR STUDDED LUNCH - today we welcomed Hollywood legend Harrison Ford to Khai Khai.
"Mr Ford is in the region, filming Indiana Jones 5. During a break from filming, he took a trip to Newcastle's Quayside and stopped by for lunch.
"Was so lovely to meet him."
The British Curry Awards celebrated their 17th year in 2021 with an event taking place in London's Battersea Evolution.
The well-known event was coined as the 'Curry Oscars' by former Prime Minister David Cameron and welcomes a star-studded guest list this year.
In attendance were cricketer Azeem Rafiq, Love Island contestant Priya Gopaldas, former The Apprentice winner Sian Gabbidon, RuPaul's Drag Race UK's Baga Chipz and Reality TV personality Robbie McMahon, amongst others.
Each year the local patrons of curry houses across Britain, annually invited to nominate their favourite Asian restaurants and takeaways.
British Curry Awards Founder, Enam Ali MBE said: "What a year we have had – full of highs and lows as we have come out of the pandemic and try and rebuild our businesses after lockdowns.
"The support of our customers has been incredible but the challenges are still significant."
In a message of support, Prime Minister, Boris Johnson said: "I'm delighted that one of the greatest events in our gastronomic calendar, the Curry Oscars, is back in action and it is fantastic to celebrate the genius of our curry restaurateurs who have, for decades, offered their fragrant medleys.
"Throughout the testing times of the past two years, you've always responded with resolve and creativity, feeding our NHS heroes and dispatching fleets of mopeds to bring spice to the lives of millions of people at home.
"And now I'm glad to say customers are returning en masse and curry houses the length and breadth of these islands are bustling once again, more than 10,000 of them across the whole of the United Kingdom.
"That's 200 for every city, more in London than in Mumbai and since the British Curry Awards are now in their 17th year with a record number of nominations, we're not just building back better we're building back balti and I want to thank you all – restaurants, chefs and waiters – for blessing us with your flavoursome morsels."