NUFC fan Dr Tom Prichard saves another life in the stands of Championship match
The Newcastle United season ticket holder was called into action again
Watch more of our videos on Shots!
and live on Freeview channel 276
Visit Shots! now
A Newcastle United fan has been applauded again after he sprang into action to give vital medical help to a fan during a match at Ewood Park.
Dr Tom Prichard, who was in the St. James' Park stands for United's Premier League fixture against Tottenham Hotspur, is also the team doctor for Middlesbrough.
The Dr also works in A&E at North Tees Hospital in Stockton.
In October 2021, Dr Prichard leapt from his seat at St. James' Park to administer CPR to a fan who had collapsed in the stands as play was stopped for 23 minutes.
An almost identical situation took place during the Championship match between Blackburn Rovers and Middlesbrough last night.
The game was stopped on Monday night after Middlesbrough manager Chris Wilder alerted the referee to an emergency in the stands.
Dr Prichard and team physios jumped over the hoardings and into the stand to treat the fan.
A statement on the Blackburn club website said: "Blackburn Rovers are pleased to report that the elderly gentleman who required urgent medical attention during tonight's game is now in a stable condition in hospital.
"The Rovers supporter, who was situated in the lower tier of the Jack Walker Stand, took ill midway through the second half of the 1-0 victory over Middlesbrough.
"Rovers wish to pay a special thanks to Middlesbrough's medical department, who were first on the scene and who were able to restart the gentleman's breathing, as well as Rovers' medical staff and the crowd doctor and his team for their swift response.
"After regaining consciousness, the supporter was taken by ambulance to hospital, where he is alert and stable.
"Our thoughts remain with him and his family this evening, and we hope that he makes a full and speedy recovery."
Speaking to i news last year, Dr Prichard explained how he sprung into action at St. James' Park.
He said: "I saw a man down and thought 'I'd better go over to help out here'.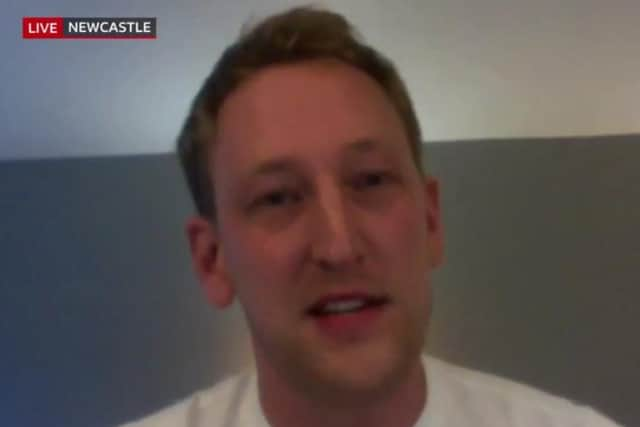 "I had to jump a barrier and run down there and sure enough there was a man in cardiac arrest. He was lying out on the seats, about six or seven seats his whole body lying there. He didn't have a pulse.
"We arrived and took over the CPR. The man needed a shock so we shocked him, carried on CPR for a bit longer and there still wasn't a pulse.
"We had to give another shock, a bit more CPR, and sure enough we got a pulse back.
"I walked back to my seat and there was 5-10,000 people near my seat all chanting 'hero' , which was one of the best feelings I think I've ever had.
"I don't like being labelled as a hero, it's not my thing. I want to say it was the whole team, without the whole team it would not have happened."