More than 200 knives were taken off the streets of the North East and into police possession after Operation Sceptre last week.
Northumbria Police took part in the nationwide initiative aimed at tackling knife crime. A total of 211 knives and other potentially dangerous including old kitchen knives, machetes, swords and antiques were collected in the process.
Seven knife surrender bins were also placed at stations across the Force and officers worked to carry out dedicated searches, operations and weapons sweeps which results in 117 arrests.
The Operation Sceptre initiative was launched last week in the shadow of tragedy in Elswick where a 14-year-old boy lost his life after suffering a stab wound. Gordon Gault passed away in hospital six days after an alleged assault in the west of Newcastle. An investigation is ongoing into the incident.
At the time, Chief Superintendent Barron labelled the tragedy a "devastating outcome" and assured the public that Northumbria Police is doing its utmost to fight knife crime in the region.
She said: "This is a priority for us and a huge amount of work is ongoing every single day to reduce the impact of this type of offending – from knife searches, targeting suspects and delivering educational inputs in schools and universities. We work with our partners, through diversionary schemes and the Violence Reduction Unit to steer people away from violence.
"This week, we are supporting the national campaign – Operation Sceptre – which reiterates the dangers and consequences of carrying a knife. Throughout this week we have surrender bins in place at police stations across the Force. Every knife handed in is one less that can potentially be used to cause damage in our communities."
The week's activities for Operation Sceptre was supported by the family of Connor Brown, who sadly lost his life after being fatally stabbed in Sunderland.
Following Connor's death, mum Tanya along with others family members, set up the Connor Brown Trust to support young people and their families and work with them to help steer people away from crime, violence and engaging in criminal activities.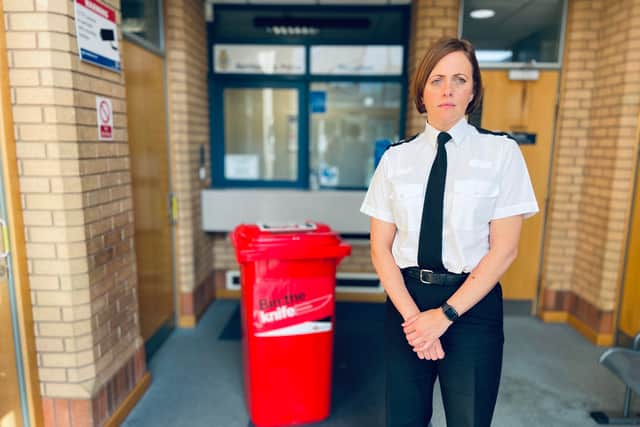 Speaking at the beginning of Operation Sceptre, Tanya said: "The impact Connor's death has had on us as a family has been truly devastating on a daily basis, it never leaves you, it never gets any easier, and the pain is real, please stop and THINK!
"The Connor Brown Trust works tirelessly with young people to educate them on the impact knife crime has on families, friends, and communities."
If you have information about someone who is in possession of a prohibited weapon, or want to report any suspicious activity, please get in touch with police using the Tell Us Something page on their website. Alternatively, you can speak to Crimestoppers anonymously by calling 0800 555 111.