Charlotte Crosby has reflected on her previous lip filler procedures, branding them "awful"and "ridiculous". The former Geordie Shore star, 32, took to Instagram on Saturday to post pictures of her lips before they were dissolved. She shared her shock at the inflated lips with her 8.6 million followers.
Charlotte first received lip filler injections in 2014 while featuring on the MTV reality television series Geordie Shore. She has always spoken candidly about her decision to have lip filler injections.
Reflecting on old pictures of herself, Charlotte told fans: "Just been looking through old pics and I actually CANNOT believe how big my lips got towards the end of my pregnancy! That is truly awful. I actually look ridiculous. It was really hard to get used to having all of my lips dissolved. But my god looking at my old lips compared to my lips now has made me realise I never ever wanna go back!"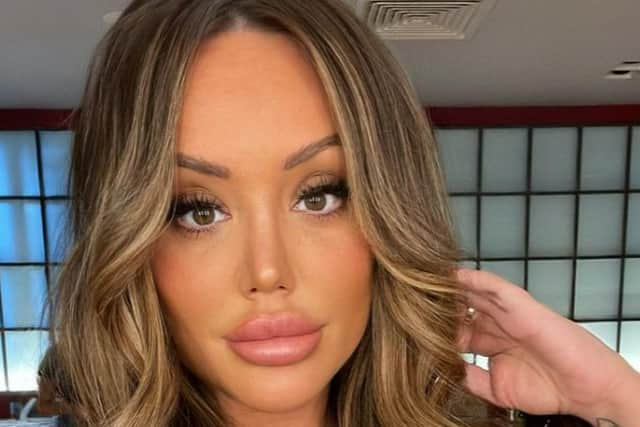 Charlotte decided to have her lip filler dissolved after the birth of her first child Alba in October last year. She documented the procedure on her YouTube channel with a video titled 'Getting my LIP FILLER DISSOLVED (SHOCKED)'. The TV star explained that her lips swelled during pregnancy and needed dissolving. Although happy with the results, she admitted it was difficult to come to terms with the change.
Speaking on the Nova Podcast, Charlotte explained: "I did not get my lips dissolved because of trolls. Because quite frankly, I've been trolled for so long about them, and I did not care. I absolutely love my lips, but it got to the point after pregnancy they had swelled a lot. Like in pregnancy, you have a lot of water retention. Everything swells. You know your ankles, your face, your wrists, your fingers, your toes. Like everything swells in pregnancy.
She added: "I watched Geordie Shore reunion, and I was watching it, and I was like, 'I look ridiculous'. For the first time, I was like, 'I look ridiculous'. And obviously, I've had a little girl now, you know what I mean? I thought to myself when I was watching myself on TV, and when I'm up in my little girl's face... and I'm going [baby babble], and I'm doing all these silly noises, can she even see us over them humongous lips?"