Amber Gill has taken to TikTok and Instagram to make her relationship with Arsenal footballer, Jen Beattie, social media 'official'.
The 2019 Love Island winner, 25, from Newcastle, has been linked to the Arsenal star, 31, from Glasgow, for a few months since the pair were spotted on a date at Winter Wonderland in December.
After winning Love Island in 2019 with Greg O'Shea, Amber quickly landed a £1 million fashion collaboration with MissPap. However, despite her good fortune, the relationship with Greg only lasted five short weeks before he supposedly dumped her by text.
Greg denied this at the time and claimed: "I couldn't give her what she wants and needs so I just had to say I can't keep doing this. It's not fair on you."
Amber shocked fans by addressing her sexuality for the first time,when she tweeted that she had sworn off men. The Love Island winner declared that "switching teams" was the best decision she has ever made as she insisted she could not "go through it again" with a man.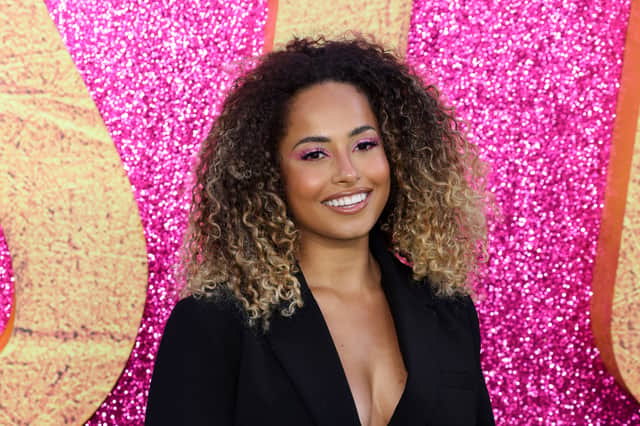 Amber officially came out last year during an appearance on a radio show but had said previously that she didn't have a "lady in her life".
It is clear that this is no longer the case as Amber shared a photo of herself, grinning as she held up a glass of champagne, whilst holding the hand of Jen across the dining table. The image was featured among a series of snaps Amber took in February, including some from a romantic trip to the Louvre in Paris.
Followers noted her happiness and were quick to comment.
One posted: "I finally get what people mean when they say 'you glow different when you're happy'
Another agreed saying: " You and Jen r beyond cute ❤️❤️"
Arsenal star, Jen, also shared her own sweet post confirming her relationship with Amber, with a TikTok showing the Love Islander standing on a chair and going through some cupboards. She captioned the pic, writing: "When your better half has other ideas for your day off".
Her fans seem to approve of the blossoming relationship too.
One said: "literally never been happier for a couple IN MY LIFE X"
Another commented: "and I thought Amber peaked winning love island on her own. This is peaking!"