Vicky Pattison emotional after comparing herself to other women on Instagram amid fertility treatment
Vicky Pattison breaks down on 'The Therapy Edit' when talking about not having kids and comparing herself to others
Watch more of our videos on Shots!
and live on Freeview channel 276
Visit Shots! now
Vicky Pattison broke down in tears as she discussed seeing mothers with their children on social media amid her own fertility journey.
The former Geordie Shore star, 35, from Newcastle, appeared on psychotherapist and bestselling author Anna Mathur's podcast 'The Therapy Edit' to discuss the dangers of comparing yourself to others.
She explained that the combination of undergoing fertility treatment combined with her busy work schedule has been exhausting.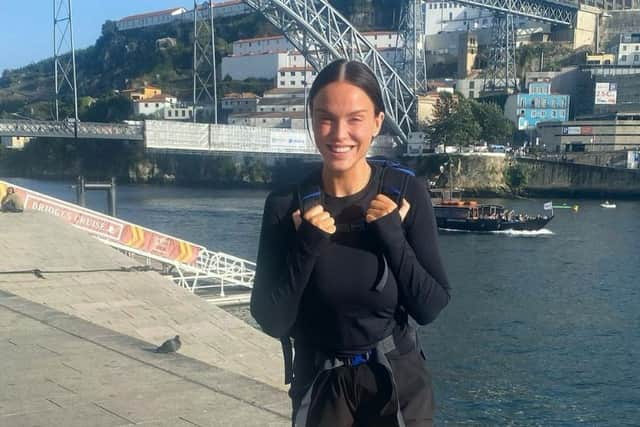 Vicky said: "I'm f**kin shattered. I am so tired as I just got back from Sicily where we were doing a shoot and working on a new campaign. It was fantastic but it was 3-4am starts in a row and travelling takes it out of you as well. Not that I am being ungrateful but it was absolutely freezing."
"I feel like I've been hit by a bus. I am tired and I am achy but I am happy to be back with my boys, Max and Mylo" who are Vicky's much loved dogs.
Vicky struggled to fight back tears as she admitted that she can't help but compare her life to other women and mums while scrolling on Instagram.
She has been very open on her social media platforms about her egg freezing journey, having begun tests to see if egg freezing was an option for her in April last year.
Vicky said: "What I really struggle with is comparison culture. The rise of social media has definitely played a huge role in this. We are exposed to far more. Back in the day it was just keeping up with the Jones, like if your neighbour gets a new car you start nudging your fella and saying 'we should get a new car'.
"Now, we're exposed to people all over the planet, every single second of the day and you can consume that content at a million miles an hour. It depends what you're looking at - are you watching an unlikely friendship between a german shepard and a duckling, is it feeding your soul.
"Or are you looking at women and thinking 'I don't look like that in a bikini anymore'. That's what I'm sort of struggling with at the moment.
"I truly believe that comparison is the thief of joy. If you are constantly comparing yourself to others, worrying about what you don't have and are stressing about the things you can't control then you are never going to be happy. You are never going to be grateful for the amazing blessings you have got in your life."
She became teary, adding: "Yes, I may not have kids yet. Every time I say that out loud it doesn't become an easier thing to say. But I have got two amazing dogs that bring me so much happiness and an amazing fella who is supporting my decisions.
"I've got a lovely house, a roof over my head, a job I like and breath in my lungs."
Vicky has undergone a series of setbacks amid her fertility journey including a cyst on her ovaries and last week shared that her ovaries are "not growing fast enough".
After wiping away her tears she shared a quote that helps her when she feels defeated, saying: "In a society that has you counting money, pounds, calories and steps, be a rebel and count your blessings instead."
"Take yourself away from social media, from glossy magazines, even the mums at the school gates and just be grateful for what you've got," she added.