Northumbria Police have urged the public to report all discriminatory abuse ahead of Northern Pride this weekend.
The Force has reaffirmed its zero-tolerance approach to any "hate crime, abuse, or disorder of any kind" as 30,000 people take to Newcastle Town Moor to celebrate Pride this weekend.
The event, which sees UK Pride held on Tyneside after many years of preparation, kicked off on Friday night and will last until Sunday evening.
In a public statement before the event Chief Superintendent Janice Hutton, the Force's Gold Commander for the event, sent a strong message of support to attendees.
Ch Supt Hutton said: "I feel incredibly privileged to play my part in this year's Pride celebrations as I know how important it is to fully represent the communities we serve.
"I'd like to reinforce the message that Northumbria Police are here for you, no matter what. We will not tolerate hate crime, abuse, or disorder of any kind and will be on hand if you need us."
The officer added her excitement for the annual event and reaffirmed its importance even in 2022.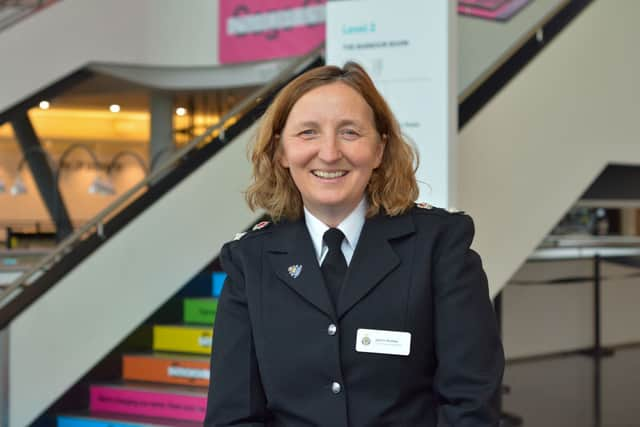 She said: "Pride is a fantastic event for the region, and I am delighted to see Newcastle hosting this year's UK Pride which sees inclusivity, equality and diversity celebrated and championed on such a huge scale.
"As a Force, it's important we continue to build and cultivate strong relationships and support those from the LGBTQ+ community.
"We will have officers, staff and volunteers involved in every aspect of the weekend - from being present at tonight's (Friday) fun run to hosting a stall at the event on the Town Moor. This provides an opportunity to speak to us about police officer recruitment which is open now or to discuss subjects including LGBTQ+ domestic abuse and Hate Crime.
"We are always keen to build and improve on our relationships with the LGBTQ+ communities and we want to hear what it is that concerns people the most and what we can do to help.
"We are here to listen to people's ideas and views. Please come and speak to us, we are here for you."
Any victims of a hate crime can report one via this link.