Q&A: Friends the Musical, 'beautiful' James Michael Taylor tribute and visiting Newcastle
The quirky musical brings the adored TV characters back to life
Watch more of our videos on Shots!
and live on Freeview channel 276
Visit Shots! now
Calling all Friends fans in Newcastle, Ross, Joey, Chandler, Monica, Rachel and Phoebe are coming to Tyneside.
Unfortunately, it's not the original cast who are now all high-flying A-listers, but a wacky musical will embody the iconic TV characters down to a tee.
The light-hearted show will stop off at the Tyne Theatre and Opera House on Thursday, March 31.
Ahead of the show rolling into the city, NewcastleWorld caught up with Resident Director Jonathan Gilland, who also plays Gunther.
Born in Memphis, Gilland went on to live in New York before moving to Dartmouth to live with his British husband - a dramatic change in scenery, he admits, although has fallen in love with the Dartmouth coastline.
Here's what the actor had to say about the show, playing Gunther and honouring the late James Michael Taylor.
Q: Hi Jonathan, thanks for joining us! Everyone loves Friends, but not many would think about turning it into a musical like this. How did it come about?
A: "The production started on Broadway in New York and then moved to Las Vegas. It's a show we all know and love so it made sense for them to do it. Our producers then wanted to bring it over to the UK.
"We've changed the show slightly, it's a little bit more family-friendly now than it was for New York. It's a perfect time for it, with all that's going on everyone wants that comfort and the ability to enjoy going out with family and friends."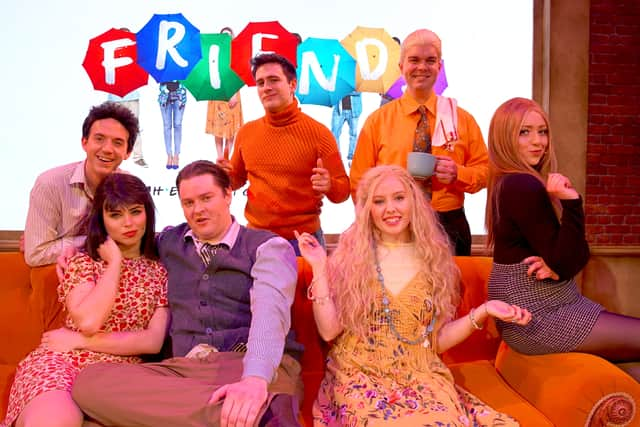 Q: What are the best moments from the show for people to look out for?
A: "The musical is written really well to include all the big moments from Rachel's entrance in the wedding dress to 'I got off the plane' at the end, we are cramming 10 seasons of big moments in the musical, plus loads of little moments.
"Those that aren't huge Friends fans will still enjoy what's going on. My mother-in-law had never watched Friends. I told her to watch the first three episodes as that has all the character information you need to know, and she loved it. There were moments she wouldn't get, but she liked it anyway because of the 90s references or who Jennifer Aniston was and what she represented in that time period... it's not just a straightforward re-telling. It's a tribute, but a fun parody too.
"If you're a musical theatre fan, that's where the writers are really clever and there are references to Chicago and Rent too. You don't have to be a musical theatre fan, but that's the cherry on top."
Q: You play Gunther in the musical. He's a notoriously quiet character, so how have you learnt his character?
A: "I think Gunther is the seventh friend, so I'm really glad he has a role in this show. He's always in the background. I might not be able to always speak but I can give a look or a glance.
"Preparing for the role I re-watched the entire series, because there's never a moment Gunther is the entire episode. James Michael Taylor, who played Gunter, grew up not too far from where I did in Memphis. I lived in New York City quite a bit and, when not acting, I'm a barista as well... so that brings a bit of realism to it!
"I try and bring forward his love-ability, the fact he wants to be a part of the group. In the original version of the show, there was no song for Gunter, but the directors realised I could sing so we put a nice little tribute to him and there's a full song in there about him. It always gets a good reaction.
"At the end we talk about all the actors and what they've done since Friends, quick little snippets. We have of course now lost James Michael Taylor, so at the end I go back on stage for the last five seconds, grab a coffee cup and give a kiss up to the sky. It's a beautiful moment that has really resonated with people."
Q: You landed the role before James Michael Taylor sadly passed away. How did his death change the performance for you?
A: "I was offered the original transfer to the UK back in 2020 before he had passed. Watching the Friends reunion and seeing how poorly he was, that was so sad. When he died our director messaged me and said, 'this is such a sad moment, but how wonderful will it be to get back on and represent him since his passing'. I said, I love this but because we're tacking the mick and it's all about having a laugh, we should put this beautiful moment of the kiss up to him at the end."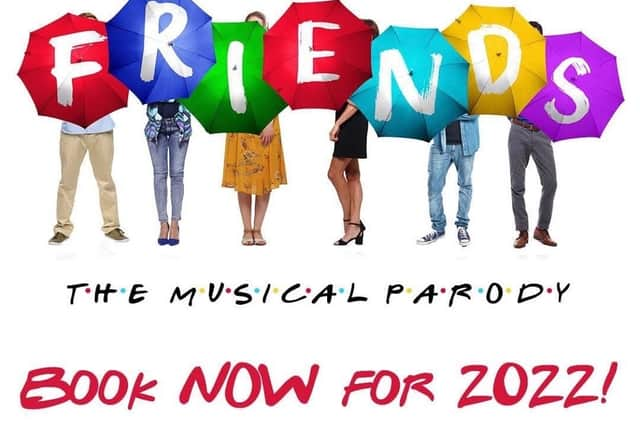 Q: It's not long until you're in Newcastle. Are you looking forward to visiting?
A: "I've not been! I've taken the train through a few times and every single time we hit that bridge I get my phone out and take a picture. I can't wait to be back properly.
"A couple of weeks ago, I know it's not Newcastle, but we were at Durham and that area was stunning. I love the combination of the tour that we go to some really small towns but some big ones, like Newcastle, too."
You can get your tickets to see Friends - The Musical Parody here.