The North Shields star will play the biggest headline set of his life in the London park on Friday, July 15 with 45,000 people in attendance.
Temperatures are set to climb above 25 degrees during the day, which starts early when doors open at 1:30 pm to allow for a long list of support acts.
Given the hot weather, the singer took to Instagram on Thursday to tell fans that rules had been changed for their safety.
Attendees will now be allowed to take in bottles of water and suncream to help combat the sun.
Fender wrote: "In light of the current heatwave, sealed bottles of water that are 750ml or less will now be permitted on site.
"Empty and reuseable bottles are also permitted.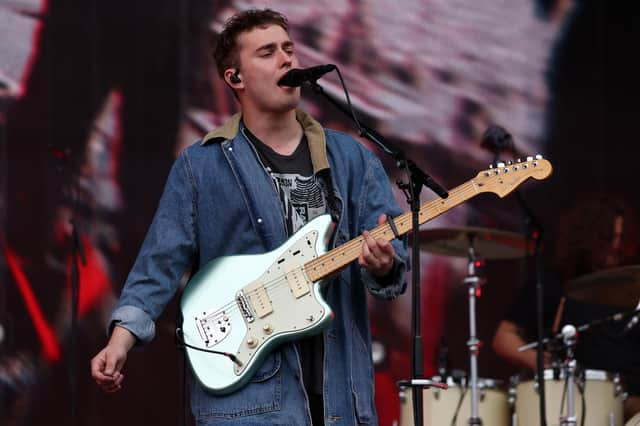 "We strongly advise that everyone brings a reuseable bottle to refill at the water points noted on the map.
"Suncream of any size will now be permitted. Glass containers of any size will not be permitted."
As well as talking about logistics, the star also shared his excitement to be playing the show and praised the line-up of "legends" playing before his set.
Rachel Chinouriri, Declan McKenna, Fontaines D.C., Goat Girl and Beabadoobee are just a handul of those warming up the London crowd for the 'Seventeen Going Under' singer.
Full set times are as follows:
Main Stage:
Fontaines D.C. – 6.55pm-7.55pm
Declan McKenna – 5.35pm-6.25pm
Nilüfer Yanya – 4.30pm-5.10pm
Rachel Chinouriri – 3.30pm-4.10pm
John O'Keefe Lowlights Stage:
Beabadoobee – 7.45pm-8.45pm
Goat Girl – 6.45pm-7.20pm
Heidi Curtis – 4.45pm-5.20pm
Kay Greyson – 3.50pm-4.25pm
Fender's Finsbury Park show comes just week after a critically acclaimed performance on Glastonbury's Pyramid Stage.
Full information on times, weather and travel to get to the gig can be found here.