The Amazons paid an emotional tribute to Sam Fender during their show in Newcastle on Monday night.
The Reading-founded band are currently touring their third studio album How Will I Know If Heaven Will Find Me? and stopped off at the Boiler Shop this week. During an evening of swaggering rock from the confident four-piece, the group slowed proceedings down halfway through the night to perform a stripped-back cover of 'Seventeen Going Under'.
Before The Amazons launched into the hit, lead singer Matt Thomson took a minute to chat about Sam Fender and his recent announcement that dates had been postponed for his mental health. Thomson said: "I think it takes a lot of strength to do what he did. When you put on a show it's not just you, the whole team behind you are on a payroll and their whole livelihood is dependent on you doing a show.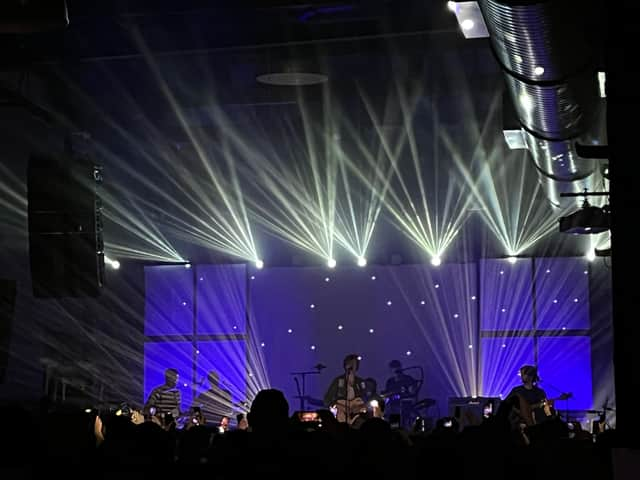 "Sometimes it takes tremendous strength to put yourself first, for your mental and physical wellbeing. It's a weird world to come back and tour in and you've probably seen a lot of artists having to pull out of gigs and tours. It's hard and taxing on the body and takes incredible courage to do the right thing and take a moment. This one's for you buddy."
In September, the North Shields star took to social media to announce he wouldn't play his final US headline shows, as well as a number of other dates, as he puts his mental health first. The 'Hypersonic Missiles' star said: "It seems completely hypocritical of me to advocate discussion on mental health and write songs about it, if I don't take the time to look after my own mental health. I've neglected myself for over a year now and haven't dealt with things that have deeply affected me. It's impossible to do this work on myself while on the road, and it's exhausting feigning happiness and wellness for the sake of business.
"My friends and colleagues have been worried about me for a while and it's not going to get better unless I take the time to do so. I am eternally overwhelmed by the love and support of our fans and I hate to let you down, but the state of my well-being is starting to affect everything I do, including my performances… I refuse to go out there and not give it my all EVERY time, as you deserve nothing less."
The Amazons' cover of 'Seventeen Going Under' that followed went down a treat with the rowdy Geordie crowd whose noise had already impressed Thomson and co.
As much as that touching tribute to Fender was a real highlight, the night was all about The Amazons and a bolstered live show that showcased the band like never before.
Hits from breakthrough self-titled debut album pack a punch with glorious hooks whilst grungier rock flicks from sophomore Future Dust and even brilliant ballads from the new album fill a near two-hour set. A class act who have a home away from home in the North East.