A disheartening number of North Tyneside residents have felt scared whilst using the Tyne and Wear Metro this year due to anti-social behaviour.
NewcastleWorld found that since the start of 2022, 81% of North Tyneside residents who use the Metro have been scared by moments of anti-social behaviour.
Earlier this month, train services were temporarily stopped at Tynemouth Metro station due to "serious youth disorder" - it was later unveiled revealed that six teenage girls had smashed windows on a Metro train.
Metro operators shared their frustration online at the time and, shortly afterwards, announced a renewed effort on Operation Coastwatch alongside Northumbria Police to curb the growing problem.
The Operation has seen CCTV increased and police patrols carried out with greater frequency.
A Northumbria Police spokesperson said: "We know that typically as the weather improves, we see more people out and about which coincides with us receiving more reports of anti-social behaviour.
"In Tynemouth we have the well-established and successful Operation Coastwatch – an initiative helping keep our beaches and the transport networks which connect them free from trouble.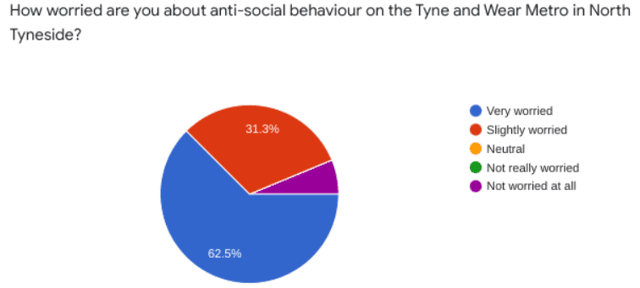 "It is an annual operation that focuses on the Easter holidays and summer months. Activity includes extra patrols, preventative work at Metro stations to disrupt and stop any disorder before it reaches the communities, and working with beach wardens who will monitor coastal activity.
"We are aware of concerns at Tynemouth Metro Station and continue to work closely with our partners Nexus to address reports of anti-social behaviour.
"An increased police presence is already in place at the station and this will continue throughout the Easter period and beyond."
When speaking to residents, NewcastleWorld also found that 69% of people had noticed a rise in incidents of anti-social behaviour this year with 63% of people 'very worried' about the situation.
31% of respondents said they were 'slightly worried', with just 6% 'not worried at all'.