The drop in temperature will be noticeable from Monday November 22 and it will go below 0°C by the end of the week.
Experts at online weather service website, WXCharts, have identified Friday November 26 as the first day Newcastle could potentially see significant snowfall.
WXCharts also identify Sunday November 28 as well as Wednesday December 1 and Thursday December 2 as days the North East, including Newcastle, could see significant snowfall.
It is important to note however that long-term weather forecasts come with a degree of uncertainty and are often subject to change.
Meanwhile, the weather in the North East of England looks set for rain and strong winds tonight and will continue into Thursday morning.
It will remain relatively mild on Friday and Saturday but the temperatures will start to plummet on Sunday.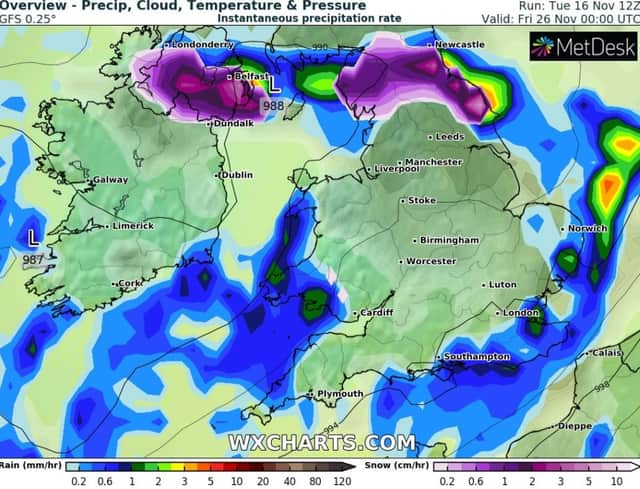 North East England weather forecast
Today:
Bright and breezy start, with most places dry with sunny spells. Perhaps the odd shower around, most frequent across the Pennines. Despite the sunshine, feeling rather chilly in the blustery breeze. Maximum temperature 10 °C.
Tonight:
Cloud thickening with hill fog across the Pennines. Outbreaks of light rain or drizzle likely, especially after midnight, and perhaps persistent in the west. Strong winds developing, with upland gales. Minimum temperature 6 °C.
Thursday:
Cloudy and windy with most places dry, although further drizzle possible across western hills, mainly during the morning. Chance of a few brighter spells in the east. Mild. Maximum temperature 14 °C.
Outlook for Friday to Sunday:
Rather cloudy, and mild with drizzle in the west Friday and Saturday morning. Rain band then clearing south overnight. Turning colder Sunday, with sunny spells, showers and brisk northerly winds.