The Portugal international has been one of the key reasons in the undoubted progress shown by the Red Devils during their first season working under former Ajax manager Erik ten Hag. The 13-time Premier League champions are on the fringes of the title race after an impressive run of form and having progressed into the latter stages of the FA Cup and Europa League in recent weeks.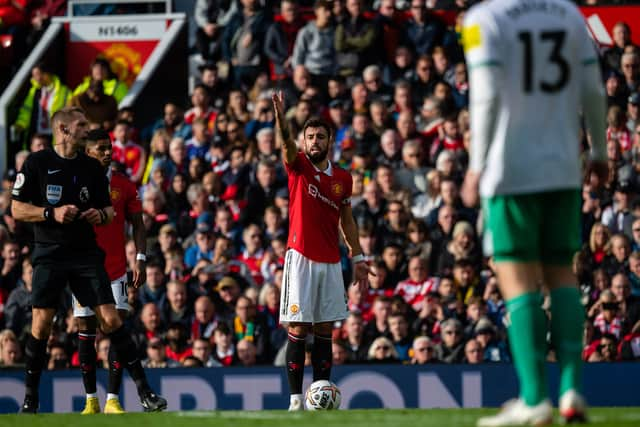 However, their immediate focus is on Sunday's Wembley clash with Newcastle as the two sides meet for the second occasion this season. There was little to separate them in a league fixture at Old Trafford in October as Eddie Howe's men battled and frustrated their hosts with a performance Ten Hag described as 'annoying' during his pre-match press conference ahead of the final.
The point they secured showed just how far the Magpies have come over the last year and there is a real feeling they have a chance to end their 68-year wait for major domestic silverware by winning the Carabao Cup for the first time in their history this weekend.
Fernandes described Howe's side as 'pretty strong and intense' but urged his own team-mates to concentrate on the damage they can inflict on their opponents in the first major cup final of the season.
"I think everyone knows that Newcastle is being probably the biggest surprise of the season," he told Sky Sports.
"Not because of their qualities, because the quality has been always there, but because last season they struggle to stay in the Premier League and this season they're doing really well. So I think everyone knows that it a pretty strong and intense team.
"They haven't conceded many goals this season. I think probably the best or the second best in Europe with less goals conceded. But it's more about us. It's more about what we can do toward them, what we can we can do in our intensity levels, passion levels and quality-wise.
"Because we know that we'll be a pretty difficult final whoever the opponent will be. It's always difficult because it's a final, the desire, the passion to win a trophy is always at the highest."