Callum Wilson dismissed a pet peeve brought up by a disgruntled Newcastle United fan on this week's BBC Sounds' Footbllers' Football Podcast.
The Magpies striker records the weekly show alongside West Ham United forward Michail Antonio and presenter Rickie Haywood-Williams. As well as discussing how their own teams are doing on the pitch, in one section listeners are invited to pose a question surrounding football culture to the Premier League stars.
A message on this week's show was from a Newcastle United fan, which read: "I would love to know about this trend where fans turn up with signs asking for players' shirts.
"I hate it as much as fans with their phones out videoing instead of just going mental when we score. I'm a Newcastle fan who sits in the North East corner behind the flag."
Wilson took a second to respond to the question but admitted that he and players can find the signs endearing - even if his lack of goals at the moment mean his name is often not on the posters.
He said: "A lot of the time you see it and it's kids with their dads that are holding it up. If a player sees it and wants to go and give their shirt [why not?].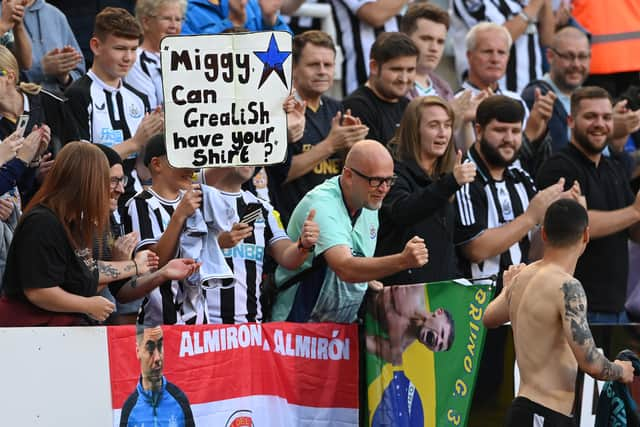 "Some of them are detailed posters. It's just unfortunate they never have my name on it! At the minute it's not hot property. You see lads and little girls in the crowd, if one of the lads spots it, they say."
Wilson and Antonio went on to laugh at one moment which occurred when Newcastle played Arsenal in the fixture where the Magpies man famously lost his tooth in a collision.
Before the game had even ended, one fan had managed to scribble a joking sign asking if they could take the tooth home.
Wilson said: "There was a sign when I played Arsenal and there was a picture after the game. Because I had my tooth knocked out in the game, it was, 'Callum can I have your tooth'!"