'Social media always wins': Newcastle United star Callum Wilson tells-all about viral moment against Arsenal
Callum Wilson needed a quick trip to the dentist after being in the wars on Monday night
Watch more of our videos on Shots! 
and live on Freeview channel 276
Visit Shots! now
Newcastle United striker Callum Wilson has opened up on the viral moment he lost his tooth during his side's victory over Arsenal on Monday night.
The striker was talking with West Ham United's Michail Antonio on BBC Sounds' The Footballer's Football Podcast and the incident of the missing tooth was the first matter the players discussed.
Wilson, who was making his first start in 2022 against Mikel Arteta's Champions League-chasing men, recounted how he ended up in the wars.
He said: "I was in the warzone last night.
"It's one of them, you jump up for the corner... I don't know whose elbow, but I took an elbow into the lip in the first half so was playing with a split lip, but you can get over that.
"Then we had a corner again and all of a sudden the tooth got hit and straightaway I felt it go backwards into my mouth.
"The worst thing was it was still attached hanging in an awkward position."
Wilson said that as he ran over to the club doctor, he tried his best to cover his mouth and hide the images from the cameras.
However, the Magpies man admitted that "social media always wins" as cameras caught the loose tooth in its full glory.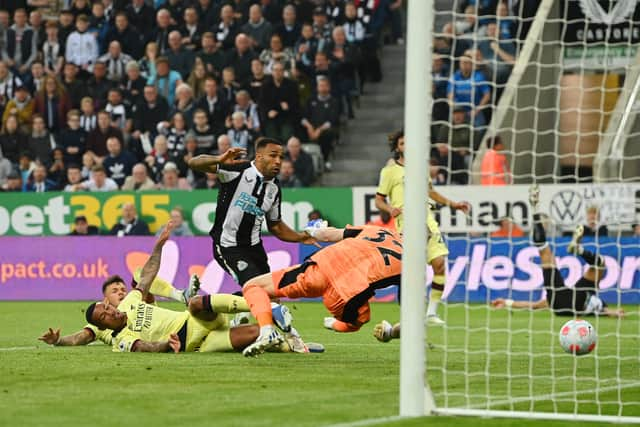 Wilson said: "I had to go over to the doc and say my tooth is hanging out.
"I had to move my hand so he could have a look and, you know what it's like, the cameras were straight on me and social media always wins.
"The photo looks a lot worse than what it was. It's a case of trying to put it back into place and playing in the second half.
"I had to play the end of the first half where I couldn't breathe or talk because it was so dislodged.
"Half-time we had to run it back forward, push it back up and put a gum shield back in.
"It's sorted now, well as good as it's going to be until the end of the season, then we will have to go and get it sorted out."
The two recorded the podcast less than 24 hours after the Arsenal game and, with Wilson's gnashers looking back to normal, Antonio accused the star of vanity.
He said: "It happened last night, how is your tooth fixed already today?"
"I'm talking about your vanity. I am vain!
"You're vain too mate, the fact you had to get this sorted."
Wilson replied: "It was a crown anyway, so was intact.
"I've got it re-attached until the end of the season.
"It's not being vain, it's making sure I can breathe and don't swallow my tooth."