Erik ten Hag has described Newcastle United as 'annoying' as his Manchester United side look to shatter the Magpies dreams of ending their 54-year wait for major silverware.
The two sides have experienced contrasting fortunes in their preparations for Sunday's Carabao Cup Final clash with the Red Devils taking serious momentum into the Wembley showpiece. The 13-time Premier League champions have embarked on a run of just one defeat in ten league games to thrust themselves into the fringes of a title battle that looked to be a two-horse race between cross-city rivals Manchester City and Arsenal.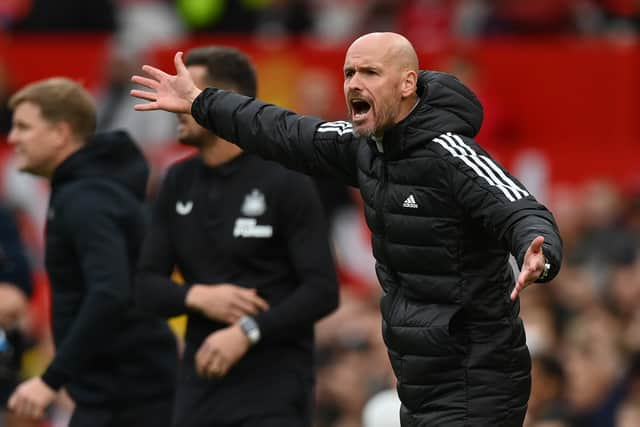 Wins over Everton and Reading have taken Ten Hag's men into an FA Cup fifth round home tie against West Ham United and European success is also on the agenda after they saw of La Liga giants Barcelona in the play-off round of the Europa League to set up a meeting with another Spanish side, Real Betis, in the last 16 of the competition.
Thoughts will now turn towards their bid to land a first trophy of Ten Hag's managerial reign as they prepare to face Newcastle for the second time this season. The two sides battled to a goalless draw on a stormy day at Old Trafford in October - and the Magpies performance that day clearly made an impact on the Red Devils manager.
When asked what he thought of Newcastle, Ten Hag said: "I think it's a great team with a clear philosophy on how they want to play the game, with intensity.
"They do really well, they're an annoying team to play against so we have to find a way to win. They try to annoy you, so we have to make sure we play our game and focus on our game. It was a good feeling (to beat Barcelona). We were really together and it was good. (It was a) great opponent, one of the best teams in Europe, a typical way of play and if you can beat them it's great.
"Sunday is a challenge again, totally different, but it is also great to play them, to find a way to play against different styles, different systems, and of course you want to beat them, to find a good blend and strategy to beat opponents."
When it was suggested Newcastrle are "annoying" for their time-wasting, Ten Hag replied: "Yeah. For instance, so if you see from the FA, the referees want to play an effective time. They have the lowest in the league and they are quite successful with it. So it's up to us that we get speed in the game and we are also then dependent on the refereeing as well.
"I'm not in the instructions of the opponents, so I don't know (if Newcastle will miss Pope's time-wasting). Also, I can't influence that.
"We have to make it our game, so focus on the job and playing football when the ball is in the game, it's about that, so fully concentrated on that. Don't get distracted from what can be, whatever is on the pitch. We have to focus on the job we have to find our way and found out the moments we can strike."