Former Newcastle and Tottenham winger takes controversial stance sympathising with anti LGBTQ+ Qatar rules
Andros Townsend said he felt uneasy with people "protesting and upsetting a culture" during the World Cup in Qatar.
Watch more of our videos on Shots!
and live on Freeview channel 276
Visit Shots! now
Former Newcastle United winger and current Everton star Andros Townsend has taken a controversial stance in sympathising with the banning of the OneLove armband at the Qatar World Cup.
Speaking on TalksSport, Townsend said he felt uneasy with people "protesting and upsetting a culture" and said he understood why Muslim players might be hesitant in supporting LGBQ+ rights.
The Premier League player said: "It's a difficult conversation. I played with a lot of Muslim players and my understanding is gay marriage is outlawed based on religious beliefs. If I go back to Rainbow Laces, the Muslim players respect that but can't promote it as they fear they are going against their religion and ultimately they are going to go to hell. It's difficult.
"When they are in our country, they respect our religious beliefs. We're coming to their country, yes we don't agree with it, none of us agree with their beliefs, but it's still their religious beliefs rightly or wrongly, they believe it for a reason. I'm a bit unease [sic] we're coming in here, protesting and upsetting a culture when these guys are in their own country minding their business."
In Qatar being LGBTQ+ can result in the death penalty with Human Rights Watch finding instances where members of the community had been given severe and repeated beatings whilst in custody and detainees had been ordered to attend conversion therapy sessions. The country's appalling human rights record has sparked outrage at the World Cup and national teams had planned to protest against the prosecution of LGBTQ+ people by wearing the OneLove armband.
A total of ten European nations - England, Wales, Belgium, Denmark, France, Germany, Norway, Sweden, Switzerland and the Netherlands - were due to sport the armband to challenge the appalling Qatari laws. However, in a last-minute u-turn, the FA scrapped those plans citing their reasoning as FIFA's threat to replace fines with yellow and red cards for players - although this had always been a possibility.
In a joint statement about the OneLove armband, the FA said: "FIFA has been very clear that it will impose sporting sanctions if our captains wear the armbands on the field of play. As national federations, we can't put our players in a position where they could face sporting sanctions including bookings, so we have asked the captains not to attempt to wear the armbands in FIFA World Cup games.
"We are very frustrated by the FIFA decision which we believe is unprecedented - we wrote to FIFA in September informing them of our wish to wear the One Love armband to actively support inclusion in football, and had no response".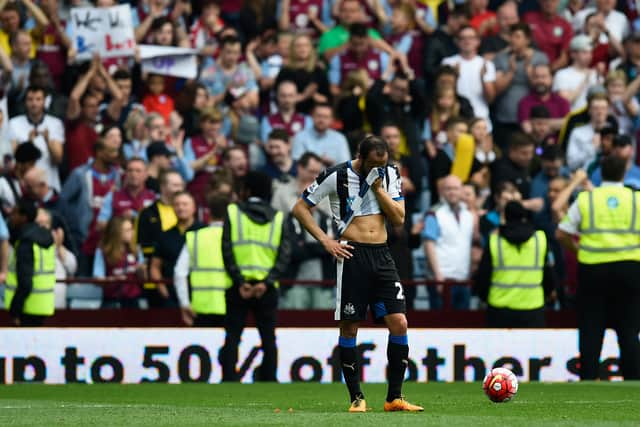 The FA response has come under heavy criticism and today the German national side posed for a team photo with their hands covering their mouths to symbolise being silenced - meanwhile German interior minister Nancy Faeser sported the rainbow armband whilst watching the game next to FIFA President Gianni Infantino.
Speaking on ITV earlier this week, Roy Keane said: "I think the players could have done it for the first game and taken the punishment. That would have been a great statement, what a message that would have been. Take your medicine and then the next game don't wear it, you don't want to get suspended. It was a big mistake. Both players should have stuck to their guns and done it, whatever pressure from outside. If that's what you believe, then go with it."
Andros Townsend played 13 times for Newcastle in 2016, joining after a seven-year spell at Tottenham Hotspur. Before the end of the year, he had moved on to Crystal Palace, where he made 168 appearances over five years before joining Everton.