Newcastle United star Callum Wilson recalled the high-tension moment he first met West Ham United teammate turn friend Michail Antonio.
After telling a tale of how the FA doping team came to his house unexpected one night when playing on the South coast, the Newcastle talisman asked Antonio if he remembered the moment they first met.
Wilson said: "I think before we started this podcast, first game of the season at St. James' Park was where we met, at the FA doping.
"It was me and you sitting in there afterwards trying to both go for a urine sample, who could do it the quickest."
That first match of the campaign was an action-packed affair with Wilson netting the opening goal in the fifth minute.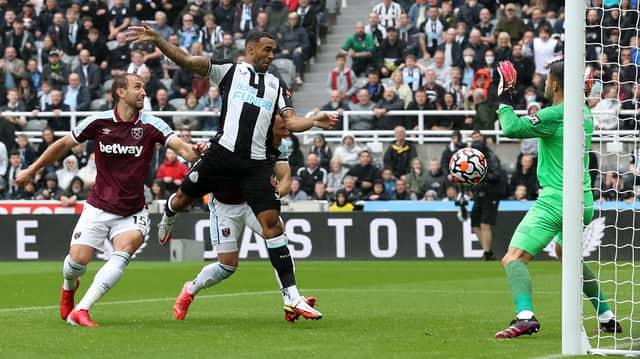 West Ham pulled one back shortly after before going in 2-1 down at halftime.
A resurgent second-half performance, buoyed by Antonio, saw the Hammers emerge triumphant as 4-2 winners.
Wilson continued on the podcast: "You'd just won, my head had fell off, I was sitting there thinking I don't want to talk to this guy.
"I'd scored which was one of them bittersweets, but I was not happy.
"You were sitting there talking about how you missed your penalty, but you still won and it was a good start for you.
"I was thinking, nah, nah, this guy has to stop talking like this."
Antonio chuckled as Wilson remembered the moment, saying he had grounds to be ribbing his opposition member after the game.
The Hammers' man said: "You were talking smack when I was rolling up to my penalty!"
Wilson replied: "It's part of my job!"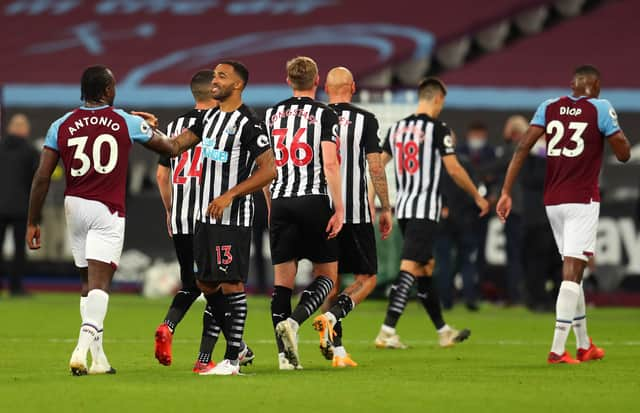 On the podcast, the Newcastle forward also provided an injury update for fans.
Wilson admitted progress was still slow going and shared his frustrations at not being able to train properly.
He said: "I'm doing my rehab at the moment, the lads are training on the pitch right beside me.
"I'm looking at them, some of their faces, it was an early start and some of the lads looked a bit lethargic like they didn't want to be there - typical training day.
"I'm at the side thinking, what I would do right now to be training with them right now and some of them are looking like they don't want to train!
"It's bizarre how when you're fit and training day to day to day it becomes mundane. You take it for granted. Now I'm desperate to train.
"It's crazy how desperate I want to get to that."