Reports in Portugal have suggested Newcastle United are preparing to make a move for highly-rated Braga youngster Roger Fernandes.
The talented winger broke a Primiera Liga record earlier this season as he become the youngest player to feature in a league game when he made his debut as a substitute against Sporting Lisbon at the age of just 15.
The youngster made headlines in October when he scored a late goal in a Portuguese Cup tie against Moitense just hours after his father had passed away.
Former Swansea City manager Carlos Carvahal is in charge of Braga and he revealed just how he had been caught by surprise by the impact he had made during his first appearances in the senior setup.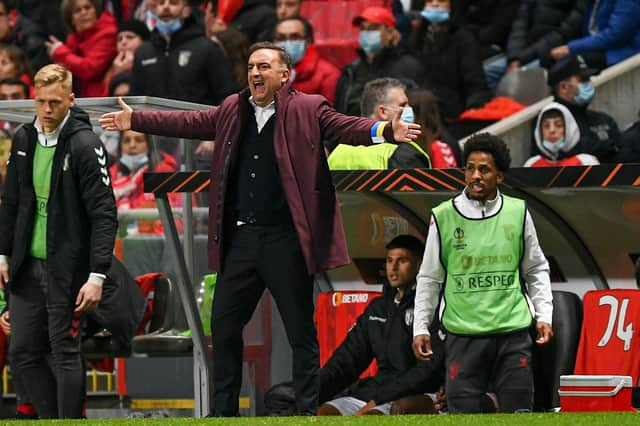 Speaking to Sky Sports, he said: "It was unbelievable. I know football. This is not normal.
"I asked him the next day, 'Where did you learn this? Who taught you? This is a complex position.' He told me that he watched all of Braga's games and when he had been told that he would play as a left winger, he spent all that day watching videos of Galeno (the injured player he replaced).
"He had studied his movements in the offensive phase, defensive phase and the transition.
"Wow. At 15 years old, this was something special. The modern young player does not like to watch full games but this boy had done all that he could to learn this position."
Now 16, Fernandes went on to make nine appearances for Braga's first-team during the campaign and has caught the eye of several clubs across Europe with his impressive performances during the very early stages of his career.
Dutch giants Ajax have reportedly shown a keen interest and saw a £12million rejected by Braga in January and a number of other clubs have sent scouts to monitor his progress.
Portuguese outlet O Jogo have added Newcastle to the list of interested parties and have reported that the Magpies have 'promised' to return with an offer for the winger after receiving several 'positive reports'.
The report goes on to state that the scouting reports are now in the hands of newly appointed Sporting Director Dan Ashworth and suggests a bid of around £16million could be enough to land the youngster.