'Tears of happiness': Wrestling champ's first St James' Park visit after 28-year Newcastle United love affair
The UK Wrestling champ had grown up loving Newcastle United through the TV screen and ended a near 30-year wait to visit St James' Park last weekend.
Watch more of our videos on Shots!
and live on Freeview channel 276
Visit Shots! now
When a young Justin Pierre Robert was tasked with choosing a football team to support in the shadow of Tottenham's White Hart Lane, he spurned the popular picks of Spurs and Arsenal. Instead, he started a love affair with Newcastle United.
Fast forward 28 years and the now 35-year-old walks up the steps and into the ground of St James' Park for the first time with tears in his eyes.
Despite following the club for so many years from afar, life had gotten in the way of Justin making his pilgrimage to the North East but his dream finally came true when Eddie Howe's side beat Wolves last weekend.
Some sports fans may recognise Justin's name. The Kent-born Magpies fan, whose family comes from The Seychelles, is a two-time UK Wrestling heavyweight champion.
Justin said: "It's always been about wrestling and football, ever since I was three or four years old. There was wrestling on ITV, I used to watch it with my mum and then when we got Sky in 2000 me and my mum used to always spend Friday and Saturday nights watching wrestling.
"From an early age, I thought I'd either be a wrestler or a footballer. I eventually started hitting the gym then got my big break in 2019 in front of 300 people in Lincoln and since then it's all blown up."
The year when Justin chose to support Newcastle coincided with the famous 5-0 win over Manchester United before blowing a 12-point lead at the top of the table. The heartbreak didn't stop the youngster from 'falling in love' with the club.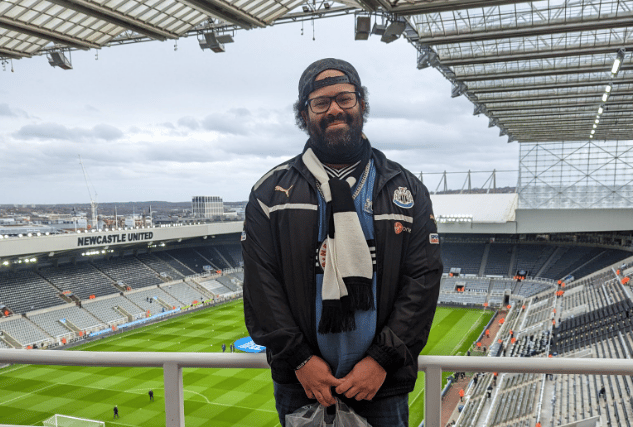 Explaining how his passion for Newcastle stayed strong through turbulent years from afar, Justin said: "You stay loyal. It made me a stronger person through the Mike Ashley era. Playing FIFA and Football Manager the only team I'd ever pick would be Newcastle United."
The wrestling champ had tickets to see The Magpies twice before but saw both trips scuppered by day-to-day life.
He said: "Once was in 2019 when we played Chelsea, I bought tickets but for whatever reason couldn't go.
"More recently I bought tickets for Newcastle vs Leicester in the Carabao Cup, I was all set to go and ready for the drive from Yorkshire. It was during the cold snap and all of a sudden my dad said his boiler wasn't working. I went to have a look and help but by that time it was too late to make the journey."
Scoring tickets for last weekend's Wolves game, Justin wrote it in the family calendar and warned that nothing was going to stop him. Arriving at St James' Park well ahead of kick-off, the fan felt a suckerpunch of emotion.
He said: "When I saw the stadium it was tears of happiness. You see it on TV, you play it on FIFA but to see it in the flesh, there's no feeling like it. It was genuinely one of the best days of my life.
"The fans were so welcoming. When Newcastle scored this random man gave me a hug, I was never expecting that.
"The atmosphere itself was electric, there's no other way to describe it. I had goosebumps joining in with the chants I'd be singing for years with the TV."