Two years on from the initial announcement of her Future Nostalgia tour, Dua Lipa has finally hit the road and taken her critically lauded album on tour.
The pandemic made for a common problem, new artists with new tracks and no way of showing them. Sam Fender hurdled that one with a phenomenal Newcastle Utilita Arena performance, and so too does Dua Lipa, five years after her last appearance on Tyneside.
Dua Lipa is possibly the freshest pop artist working currently. For all the intricacies of her writing, the messages behind them and the structured variations that come from her work, it all bows down to those safe and memorable pop beats.
That acceptance of fantastic and catchy pop bops steers her setlist smoothly, with plenty of costume changes, light shows and dance breaks to give the star a chance to change into the next segment of the science-fiction, neon-lit themes.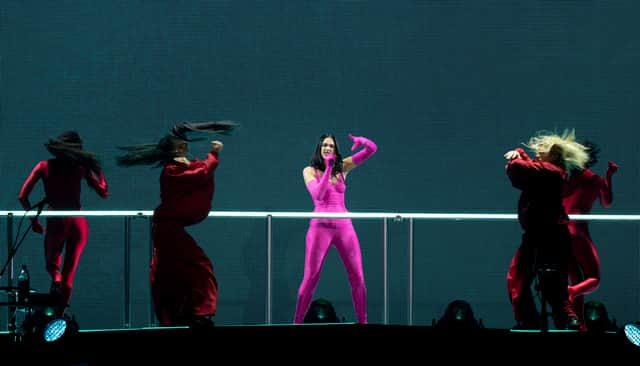 Extended versions of fan favourite Physical and New Rules opened a setlist which included energetic renditions of Good in Bed, Boys Will be Boys and a nice addition of Cold Heart, which featured Elton John ever so briefly on the giant screen that dominated much of the performance.
Lipa's work relies just as much on sensational vocals as it does on the dance routines and atmosphere this troupe can create by hurtling themselves around on roller skates, levitating platforms and throwing out giant lobsters.
That atmosphere is what Lipa feeds off of, and it isn't possible to escape it when she asks the audience if they're having a good time in the interludes that follow every other track.
There's no doubt about it, the audience are loving it. It's hard not to, because Lipa's efforts both on stage and as a lyricist are particularly delightful in a way that blurs the line between chart-worthy hits and themed albums usually reserved for artists going through a phase of influence.
Not for Lipa, though, her Future Nostalgia tour is moving from strength to strength, elevating good tracks to great renditions. Uplifting disco brilliance, with a heavy-set electropop feel coupled well with that sweet dance-pop energy.