Review: Sam Fender whips up a religious fervour at homecoming Utilita Arena Show
It was a homecoming to remember for local lad Sam Fender has he played the first of two sold-out nights at the Utilita Arena
Watch more of our videos on Shots!
and live on Freeview channel 276
Visit Shots! now
At one point on Tuesday night, it's just Sam Fender, a guitar and a room full of Geordies.
In 2022, however, that pub full of passers-by is now 11,000 die-hard North Eastern fans whose pilgrimage to the Utilita Arena on Tuesday has an almost religious fervour about it.
Fender has spent the last two weeks taking his Bruce Springsteen-inspired catalogue of hits to the country's biggest arenas, including two nights at the heralded Wembley Arena.
Yet, as the singer strolls out to the dying tones of 'Local Hero' in Newcastle, he's quick to admit it's these two nights back in the North East the band has been looking forward to the most.
As Fender rifles through an hour and a half of material from debut record Hypersonic Missiles and last year's Seventeen Going Under, it's easy to see why he's been counting down the days until his homecoming.
The 27-year-old's candid take on growing up in poverty and dealing with isolation has endeared him to the globe, but on Tyneside there's an extra electricity to his lyricism.
After latching onto the Geordie crowd's excitement to open on the anthemic 'Will We Talk?' and 'Getting Started', Fender catches his breath to dedicate 'Dead Boys' to '"all the ones who didn't make it tonight".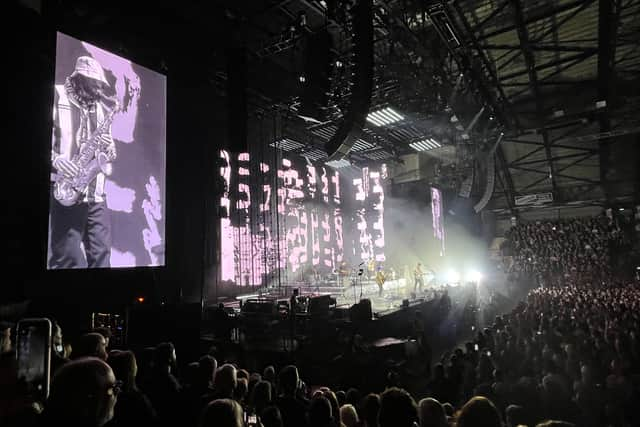 It's the first time hush falls over the Utilita Arena concert-goers as the star muses on the male suicide epidemic - "nobody ever could explain, all the dead boys in our hometown," he coos.
Moving moments like that are plentiful throughout the night. Later on, 'Spit Of You' is dedicated to all Geordie parents and 'The Dying Light' becomes a family affair as Fender brings on older brother Liam to play the piano.
At one point a choked-up stranger in-front turns to another in the crowd to say, "it's amazing to see a local boy doing so well, isn't it?".
Between those tales of local struggles, the singer ups the tempo with 'Spice' and 'Howdon Aldi Death Queue', demanding the crowd open up the biggest mosh pit he's seen on tour. Unsurprisingly, the fans oblige.
A few times throughout the night the Geordie icon suddenly halts proceedings with a paternal worry across his face as he sees a fan struggling in the crowd, demanding the audience "make a path through" so security can carry them out.
When time for the encore comes, Fender strolls back onto stage alone and sets about conducting a singalong to the opening lines of 'Saturday'.
Before he heads home to North Shields for a night's rest ahead of doing it all again on Wednesday, the singer takes a moment to tell fans that if him and his band can turn writing in their North Eastern garage to selling out this arena twice over, "anyone in this f***ing city can".
It's a bold claim, but as he recalls the temptation to turn to drug dealing just a decade ago on the rattling 'Seventeen Going Under', fans latch onto every word.
The night is over all too soon for the thousands of Geordies who have been waiting months for this, the flags back out and confetti blasted for 'Hypersonic Missiles'.
As long as Sam Fender is going, this reception will be waiting for him at home.