Earth Day 2022 in Newcastle: date, what is it, and activities and events for kids and adults near me
Earth Day is here - here are  the events you can get involved with around Newcastle
Watch more of our videos on Shots!
and live on Freeview channel 276
Visit Shots! now
The global event Earth Day is here again.
The day is a chance to take action against climate change, and ensure a bright future for the world.
So, how can you get involved with Earth Day 2022?
Here's everything you need to know about the day and the events happening in Newcastle.
When is Earth Day?
Earth Day is Friday 22 April in 2022.
What is Earth Day?
Earth Day is a global event that aims to gain awareness and support for environmental protection.
1 billion individuals have gotten involved in helping the future of the planet.
What is the theme for Earth Day 2022?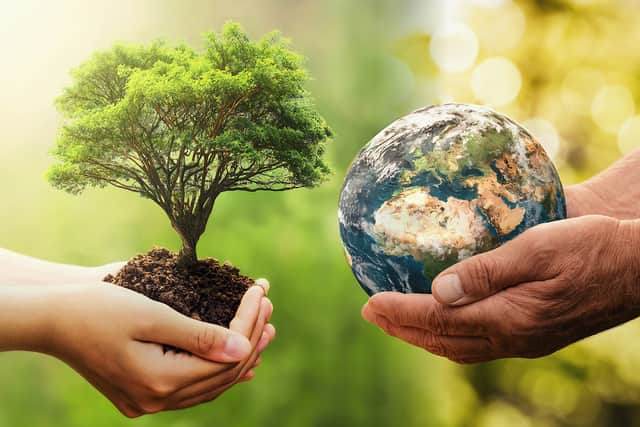 The theme for Earth Day 2022 is Invest in Our Planet.
The theme is a direct call for governments, business and individuals to invest in a brighter future for the planet.
The official Earth Day website released a statement about their theme saying: "We need to act (boldly), innovate (broadly), and implement (equitably)."
"It's going to take all of us. All in. Businesses, governments, and citizens — everyone accounted for, and everyone accountable. A partnership for the planet."
"And while there is still time to solve the climate crisis, time to choose BOTH a prosperous and sustainable future, and time to restore nature and build a healthy planet for our children and their children, time is short."
What Earth Day events are happening in Newcastle?
Earth Day Lunch and Foraging
Price: £11 for kids, £22 for adults + SF
Spend this Earth Day on a voyage of discovery into the Wild World of Plants.
There is no better way to spend Earth Day to learn about sustainable and safe foraging. You will have an expert guiding you into the world of to responsibly forage and teach you all about plants.
The walk and talk will be followed by lunch.
The event will take place on Earth Day from 10am to 2:30pm.
Address: Dalton Moor Farm - Vegan Fruit Farm and , Dalton Moor Farm, Dalton Moor Lane, Off, Truro Ave, Murton, Dalton-le-Dale, Seaham SR7 9JY Website: Dalton Moor Farm event
Earth Day Litter Pick
Help keep Ouseburn clean with Lucy from Yoga x Life.
Join the volunteers for an afternoon of chatting and litter picking on the streets of Ouseburn Valley.
They will provide pickers and bags to anyone who wants to join but asks that you bring garden gloves and hand protection if you have them.
Every volunteer will be treated to a hot or cold drink depending on the weather.
The event takes place on Earth Day between 1:30pm and 3:30pm.
Soundbath
Join in on this immersive session at The Modern Yoga. The session is designed to help you enter altered states of consciousness where you can relax completely.
The event will take place on Earth Day from 6:30pm to 8pm.
Address: The Modern Yoga Studio, The Fire Station, 1st Floor, Gosforth, NE3 1HH
Earth Day Livestream - Nature in the Race to Zero
EARTHDAY.ORG, and its partners are presenting the Earth Day Climate Action Summit.
The summit aims to inform people of the issues surrounding climate change and the importance of reaching net-zero greenhouse gas emissions by mid-century to keep the global temperature below 1.5 °C.
They aim to offer solutions that will help reach the goals to meet the Paris Agreement and encourage as many individuals, businesses and governments to get involved.
You can find out more and watch the livestream on the Earth Day website on 22 April.