EXCLUSIVE: Luke Kempner talks Macho Macho Man tour, impersonating Ant & Dec and St. James' Park excitement
From Jurgen Klopp to Piers Morgan and Ant & Dec to Boris Johnson, Luke Kempner can do them all
Watch more of our videos on Shots!
and live on Freeview channel 276
Visit Shots! now
Well, those big names won't be there in person, but they will all speak through Spitting Image's Luke Kempner when he brings his Macho Macho Man tour to Newcastle Stand on Saturday, February 19.
Kempner, who has also appeared on shows including The Royal Variety Performance and Love Island Aftersun, spoke to NewcastleWorld about his upcoming visit to Tyneside.
Q: Hello Luke, thanks for joining us. You've already performed one date of the Macho Macho Man tour so far, in Birmingham. How was it?
A: "It was so good. It's been a long time coming. I started writing this show at the beginning of 2020 and it was originally going to be about me struggling with my masculinity and whether I wanted to become a father or not. A lot has happened since then in the world. I'm delighted to be touring again. It's fantastic."
Q: What can people expect if they come down to The Stand on Saturday, February 19?
A: "It's an ironic title, I'm not a macho, macho man. I have a musical theatre degree! I'm not a tough guy... unless you saw my performance in West Side Story in 2005, I was very tough in that. It's very much a light-hearted look at masculinity through the years and growing up with that, but also toxic masculinity.
"I have a whole sketch of Ant & Dec called, 'Toxic Masculinity... Get Me Out of Here!'. There's Boris Johnson, Donald Trump and Piers Morgan in there too. Lots of sketches about masculinity leading up to when my wife finally gave birth. I think it's a beautiful little show, lots of fun and lots of silliness. Come along!"
Q: Ant & Dec is sure to be a hit in Newcastle. How do you go about embodying them?
A: "It's very fun. I love playing them. They are so brilliant and so funny on TV. That's why I enjoy doing other comedians. I don't do it so much but it's quite an easy route in. We know what's funny about them. It's a heightened version of them... well, not of Dec, sorry mate. It's a very silly take on it and I use these sketches to get my observations on masculinity through them."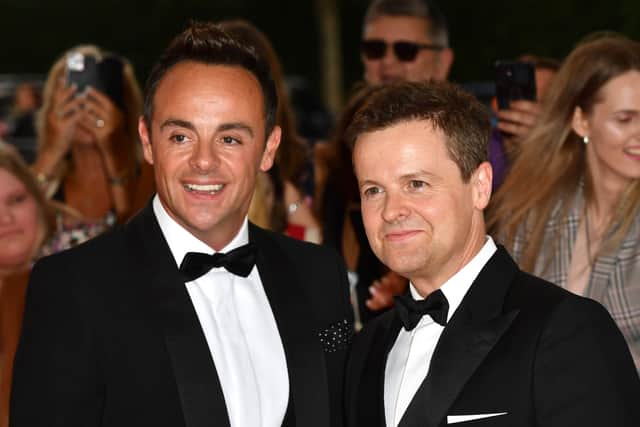 Q: A lot of people may recognise your impressions from Spitting Image. Do you have a favourite character to play on there?
A: "I really love doing all the characters I do on Spitting Image. I really like doing Jurgen Klopp, Harry Kane is one of my favourites too and someone I've always wanted to do. Joe Wicks is a lot of fun too because he's so energetic."
Q: You'll be on Tyneside by the weekend, what are you looking forward to about visiting Newcastle?
A: "I'm so looking forward to coming to Newcastle. I used to be in musical theatre but never toured to Newcastle. I've toured to Sunderland twice and looked at Newcastle from afar thinking I'd love to go. I'm really glad I can go.
"I want to see St. James' Park, I like the idea of seeing a big stadium in the middle of a city. I'm such a big football fan so I'm excited for that."
Q: The Geordies have a reputation as a bit of a raucous crowd. Are you hoping they come out in full force?
A: "Yes, come along! At the beginning, I do 10 minutes of chatting to the audience and doing impressions of audience members. I'm sure the Geordies will be ready to judge my Geordie accent. It's okay as Ant & Dec but when I'm freestyling we'll have to see. It's a really fun show."