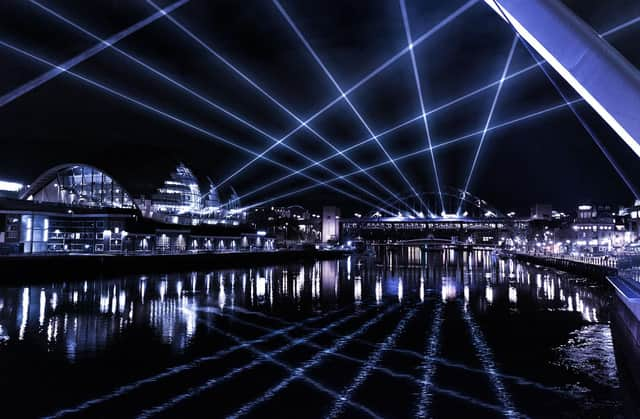 Laser Light City is headed to Newcastle, and will offer residents the chance to control laser beams around the city in a New Year's Eve light show.
The project, from BAFTA-winning artist Seb Lee-Delisle, offers an interactive laser light show safe to run under the strictest of lockdown restrictions.
Despite the cancelled fireworks showcase and live music event for New Year's Eve, the Laser Light City event is going ahead both tonight from 5 pm to 1 am and New Year's Day from 5 pm to 10 pm.
Lasers will be mounted to landmark buildings and the beams, which can be seen from miles around, can be controlled by attendees via their phone.
Sites that have controllable lasers are:
Those wanting to control one of the lasers join a queue, and once their turn is up are given a countdown for how long they have to control the beam.
In a statement released on the Laser Light City website, they said: "The amount of time you have to control the lasers varies depending on how busy we are, but it is usually between 30 seconds and 2 minutes."
The statement also said it was important that your phone does not switch off, or you will lose your place in the queue.
Weather worries shouldn't stop Laser Light City from shining through the sky.
A statement from the site said: "Lasers are more visible in some atmospheric conditions than others; at times the sky will be filled with spectacular laser beams that can be seen from any angle.
"And at other times you might have to work a little harder to get the best view.
"The perfect conditions are when there's a slight haze in the air and not too much cloud cover.
"If it's like this, the lasers can be seen from miles around. In less ideal conditions the lasers are most visible when they're coming towards you."
Rain was also a concern brushed away by the event, with the site saying the lasers look "great" in the rain and that attendees will be fine "as long as you bring your waterproofs".
The event has also said they will be monitoring social distancing throughout and that if crowds are too strong, they will have to switch off the lasers in that particular location.
For budding photographers, the Laser Light City offered advice on how to take the best snap.
"As with any dark sky phenomena, these lasers are best captured with light-sensitive cameras but modern mobile phones should be able to handle it.
"There have been some great long exposure and multiple exposure comps from our events so far.
"We encourage you to get creative and we'll always repost our favourites (with permission of course)."